Written by:
Guy Lester - PGA Professional
|
Date:
Thursday, June 2nd, 2016
Categories:
Golf Apparel
•
Golf Gear
•
Reviews
Tags:
Aveo Big and Tall Golf Apparel
•
Golf Apparel
---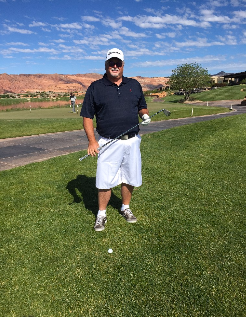 Recently I received a call from a very good friend of mine (one who all of you know as well…) Tony Korologos from Hooked on Golf Blog telling me that a company by the name of Aveo Big and Tall Golf Apparel had contacted him to review some clothes on his web site from their "Big and Tall" line. If you know Tony, he is neither big, nor tall so the first person he thought of to review these clothes was me! Great, now how do I take this???? Ok, so I am 6'5″ and I guess I do weigh 290 pounds, so as usual Tony is right.
I have written a review once for Hooked on Golf Blog in the past but this is a bit closer home for me. I recently retired from River Oaks which is where I first met Tony, and did so not because I wanted to, but because I could not come back after my last surgery. I have been sidelined from golf for the past few years, but am now trying to play for enjoyment, and find a way to be with my friends and sport I have loved for the past 54 years.
I really did not think that I would get a chance to do this review, as a few weeks went by and I never heard from Tony. But last week on my doorstep was a package from Aveo Big and Tall.
I looked at the website aveogolf.com and really fell in love with their company slogan "Play Fearlessly." If you have a second, check out their web site. Darius Hicks and Randy Peaches were interviewed on the Golf Channel about their golf and fashion lines and why Darius brought this line into being.
I was pleasantly surprised when I opened the package to see a pair of white golf shorts and a very attractive deep blue polo shirt. The Polo and Shorts were packaged very well.  When opened, the creases were nice and tight. I have purchased some online products that were packaged so poorly I had to press them before I wore them! Not the case here!
Like I said, I liked the fact that the company motto was embroidered on their shirt. If anything, I think they can use it more and have it larger under their logo, or even on the collar. Darius, this motto would really would make a great hat logo as well. I liked the A logo, but I love the motto "PLAY FEARLESSLY." Use it more!
Polo
I am not generally a tucked in shirt kind of guy, as most shirt tails are not long enough for my body type. With this polo I had no problem. As you can see by the last photo my shirt tail stayed tucked in the entire round! While I appreciated the extra length of the polo, add a couple of inches to the tail, and some of us guys will never wear anything else!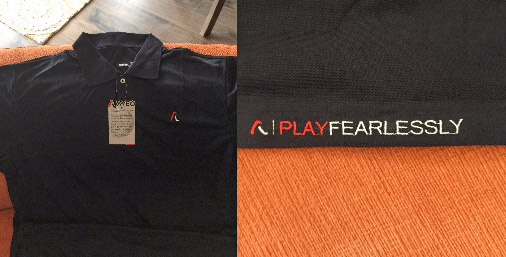 The polo features a light Polyester with 10% bamboo fiber. In the 80+ degree weather it kept me very comfortable! I also appreciated the way the collar fit. Being a golf pro for the last 19 years I have had a lot of golf shirts. Many polo's while the fit me well in the body but the neck was made for a man twice my size, and have felt very awkward. Not so with this polo from Aveo. The fit felt good, and I liked how the collar laid nicely without flipping up.
Shorts
I was so impressed with the lightness of the short fabric, and also that the inside short was lined. In the online video Darius talked about the expanding waist, but for me I have never liked them, but this one was sewed in such a way it was invisible to see unless you tried to make them increase in size…. Still I am not a fan of the expanding waist and generally do not buy pants or shorts with them. Please I know already I have a large enough waist, give me a true size to wear in a well cut short. But my true test was to play in them.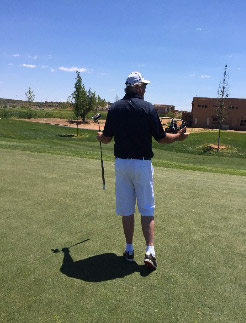 The shorts are 100% Polyester, and also lined in Polyester. They are incredibly light, and were very comfortable all day. Being white I was a bit concerned, but my wife said that they will wash without problem. I would really like to have a pair of full length pants that are this lightweight. Darius explained in the video that the pants are a fuller cut in the legs and calves. That has always been a problem for me to get a nice looking pair of golf pants that also are comfortable to wear. I am not the kind of guy that would ever want t o have my picture included here, but I have come to terms with my being a big and tall kind of guy. And truly, I am the kind of customer that Aveo is looking for who benefits from wearing their clothing.
Final Thoughts
Overall my experience with these shorts and polo from Aveo were positive. You can see me from behind on the 18th hole my shirt kept tucked in for the entire round! I think that Aveo could push the fashion even a bit further. While there are a lot of polo shirts I have and wear, I cannot find shorts and pants that are like the ones that the "flat bellies" wear. A small side pocket and split seam on the cuff so the pants fit well over a golf shoe would be nice touches. I agree with Darius that we big guys deserve more than just an ill fitting cargo short. We bigger than life guys deserve this, and I think this company could provide this and even make it better. Think about losing the expanding waist band (maybe not on every pant or short as I know some larger guys might need them and would like them) but to me the pants without a belt feel like they would fall off.
After my round I spent the rest of the day in the shorts with the shirt untucked and liked them even more!
Play Fearlessly!