Written by:
Tony Korologos
|
Date:
Monday, May 30th, 2016
Categories:
Golf Apparel
•
Golf Gear
•
Reviews
Tags:
Royal and Awesome
---
Just got back from a Memorial Day family barbeque.  We toasted and expressed our appreciation for our love ones lost, and for our lost military who made the ultimate sacrifice so that we could, well, have a family barbeque.  In that spirit I thought it would be a good time to bust out my stars and stripes golf apparel from Royal & Awesome.  I've got a great pair of USA shorts and a USA cap, seen below. These are called "Pars and Stripes."
Also with the ensemble is a white Royal & Awesome belt, below.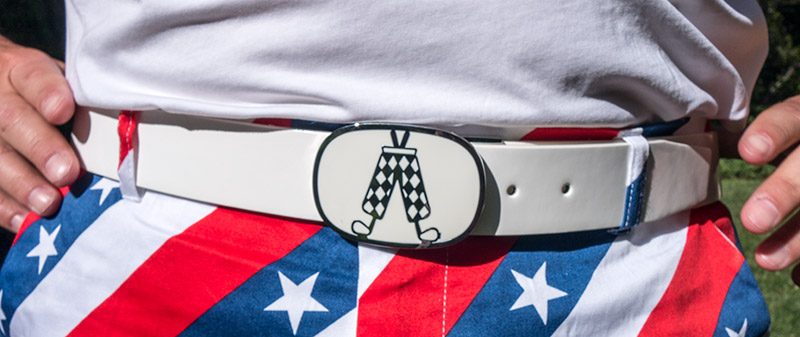 The american flag golf shorts are very comfortable and I love the style of the cap. I believe the Scottish might call the cap a bunnet.
I can't wait for the 4th of July golf tournament to bust this apparel script out again.
One note on the shorts. I've found that Royal & Awesomes sizes are "skinny UK sizing" as opposed to "fat American sizing." Knowing this I ordered one size larger on the shorts and they actually fit perfect.
The 4th of July is coming. Just sayin'.