Written by:
Tony Korologos
|
Date:
Monday, May 16th, 2016
Categories:
Golf
•
Golf Courses
•
Golf For Women
•
Hackers
•
HOG World Tour
Tags:
Salt Lake City
•
Utah Golf
---
I had a wild hair up my shag bag to take in the experience of a course I haven't played in probably several decades, Nibley Park.  We often refer to it as "The Gib," which is short for The Gibley.  That comes from "Nibley Gibley."  So I affectionately said that I was "flogging the Gib."  I'm glad to clear up the confusion on that now.
This course is a 9-hole par-34 which measures a lengthy 2,895 yards from the blue tees; the tips.  The only par-5 is 453 yards and I hit an 8-iron into that one on my 2nd shot.  Yes I made birdie.
The Gib is a bit of a beginner's course, and one which is on the low budget end.  It clocks in at a whopping $11.00 to walk 9-holes.  That's a price I can live with.  The crowd is, shall we say, more working class than higher end courses in town.  That's part of the experience I was looking for.  Plus I'm trying to get used to new Miura irons, and new shoes.
I played with two guys who were playing their 2nd round of the year.  I doubt they even have established handicaps.  I had fun playing with them, and watching their match which was 25 cents per hole.  I think 75 cents exchanged hands at the end.  One of the guys was pitching it better than me with what appeared to be a pitching wedge hybrid. See below.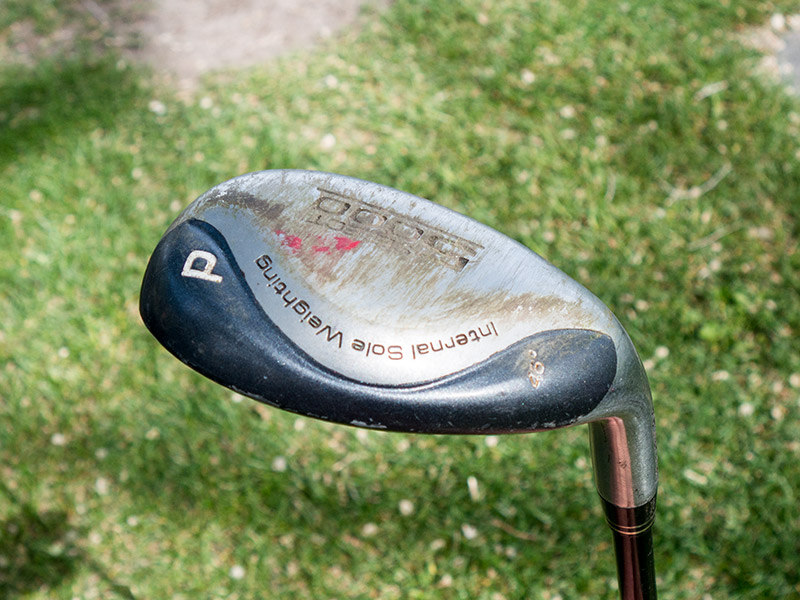 That P-Hybrid has "internal sole weighting." I can't imagine what external sole weighting would be.
The other guy was a lefty and bragged that he got his TaylorMade driver for $10.00 on eBay. I said, "if you only knew." He got his entire set of clubs on eBay in fact, and said the most expensive club in the bag was his driver. Most of his clubs were $5.00 or less.  As I wielded my brand new shiny Miuras I couldn't help mumble "if you only knew (my rants about golf product release cycles)."  Later in the round he told me he had seen a set of irons like mine before, when some guy was pawning them.  He said he knew the guy had no business with irons like that.  English translation, they were stolen.  That's my guess.
I enjoyed playing a more casual round on an easier course, especially one where my rusty spring game didn't cost me more than my green fees.  Low pressure. I tested some new shoes, a new ball, and got another round in with the new irons.
Post-round I practiced low running chips and short game.  I practiced so long my back was tweaked the next morning.  It took half a day to get myself straightened out.
Game Still MIA
I'm hoping my missing golf game will reappear soon.  I'm thinking the more spring rounds I get in, the closer I'll get to my game's return.  Until then my handicap is blowing up and my confidence is like a house of cards.
This year's goal is to enjoy the walk.  Regardless of the score, that's what I'm trying to do.  Most of the time I've gotten it done.