Written by:
Tony Korologos
|
Date:
Monday, May 2nd, 2016
Categories:
Boneheads
•
Golf
•
Golf Courses
Tags:
Salt Lake City
•
Utah
•
Utah Golf
---
This is a painful post to have to write, but I'm compelled to do it.  I was horrified to see heavy equipment in operation this past Saturday at the fabulous Bonneville Golf Course.   Bonneville is a municipal course which was designed by William Bell and has been providing the public great golf and fantastic greens since 1929.  It's really a gem and is an extremely popular course. "Bonney" is the first real golf course I played as a beginning golfer many years ago.
Unfortunately the heavy machinery was not there to level out the uneven tee boxes, work on improving the greens, fix the bad bunkers, or rip out the crumbling cart parking strips by the tee boxes.  I was shocked to find equipment and workers digging out new cart paths.  Lots of them.
One of the great things about Bonneville was its LACK of cart paths.  Lacking cart paths makes a course much more aesthetically enjoyable.  Plus, with no cart paths by the greens, errant approach shots aren't bounced into the next county.  That's over.  The ironic thing is that having cart paths is what makes specific parts of the course shabby and downtrodden.  The paths basically force cart riders to enter and exit in the same places and cause a ton of damage to those areas.  With no paths cart traffic is spread across a wider area and less damage is done to the course.  I know, I'm talking crazy talk, right?
Apparently those who are making the decisions want Bonneville to look like some resort course in Orlando, rather than wanting it to be a great golf course.  Seriously, WTF are they thinking?  Not only that, we keep hearing about how Salt Lake City courses are losing money faster than John Daly loses alimony.  Somehow they scraped up the money for cart paths though. Got it.
Below are a few photos I captured with my phone during that round, showing a few places they've begun work on the new paths.  I hope this is all, but I doubt it.  Under each photo are my comments.  If you disagree, I'd love to get your opinion.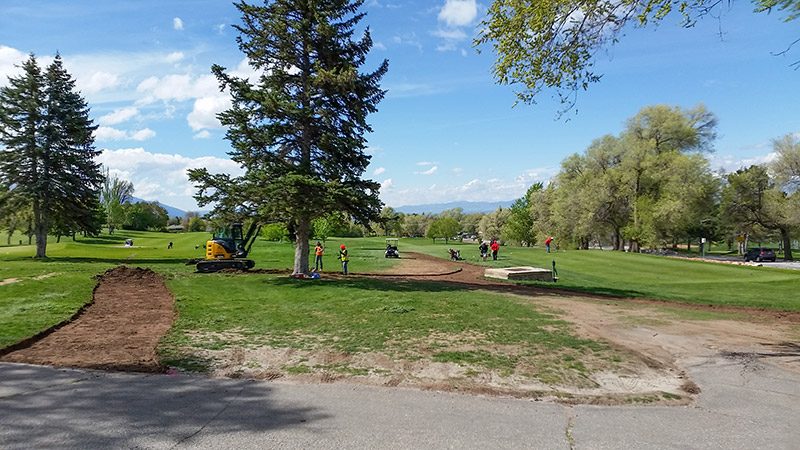 Above is the look from the snack shack which is by the #2, #4, and #11 tees. You can see two paths not very far apart. Yeah great idea to lay down two times the amount of pavement. Wouldn't it be smarter to lay down less pavement? I know. Crazy talk.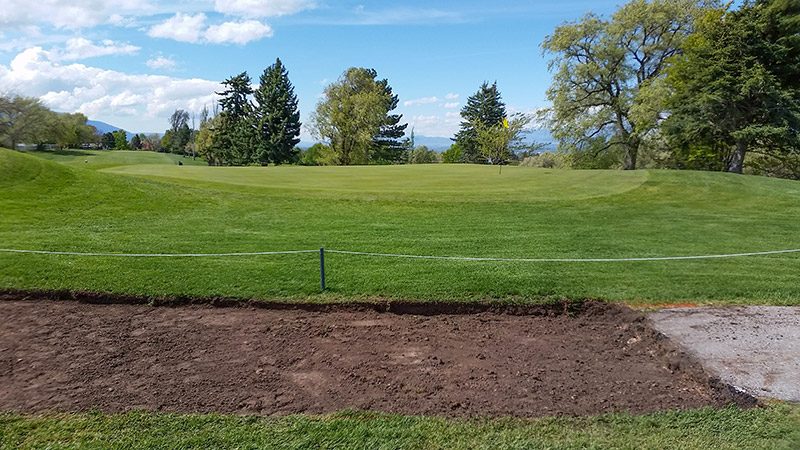 Above is a view of the par-3 17th green with the new path just a few steps right of the green. Pop quiz: Do you know where most amateurs miss? You guessed it! Where that new cart path is, to the RIGHT. Strategically that cart path is great. If players miss right and hit the path, their ball will either bounce over to the 11th tee and kill someone, or bounce down the path to the ROAD and hit someone's car, causing them to swerve and hit golfers coming off of of #1 green. Brilliant.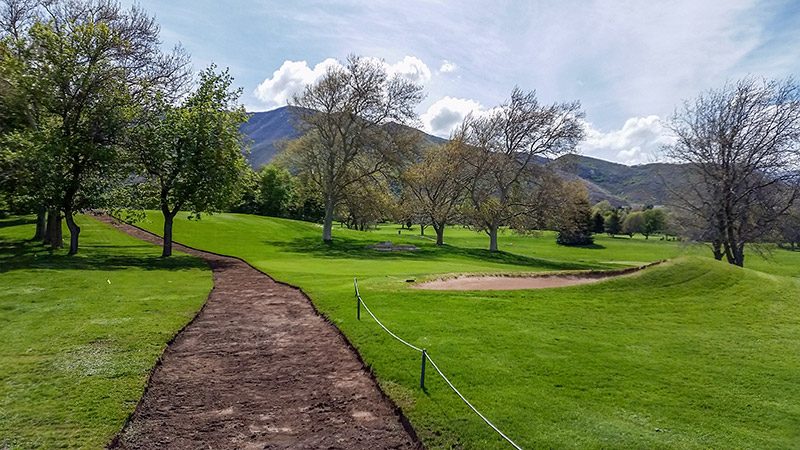 Above is another view of this great new path which runs from the 17th tee to the green. You can see the rest of the hill where many thousands of carts have come down over the years. No damage of course. No cart path needed.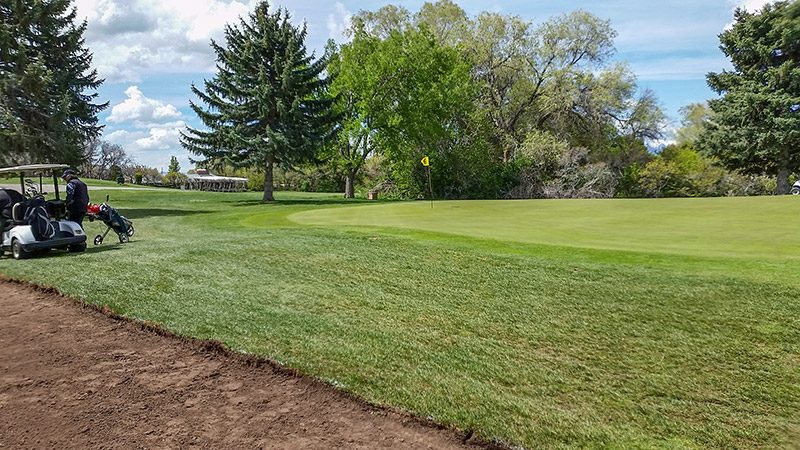 Above you can see a photo of the par-4 14th green. Some 5-10 steps left of this green will be a new cart path. This is such a great strategic placement. You see, right of this green is a hill with some trees which can eat balls and never give them back. So the "default miss" for people who bail a little bit on this hole is left. Now if someone goes left, their ball will bounce on the cart path into trees, or toward the 15th tee. The ball likely won't reach the 15th tee, but will give the golfer an enjoyable impossible flop shot from a downslope over trees. I'm sure that's just what William Bell had in mind.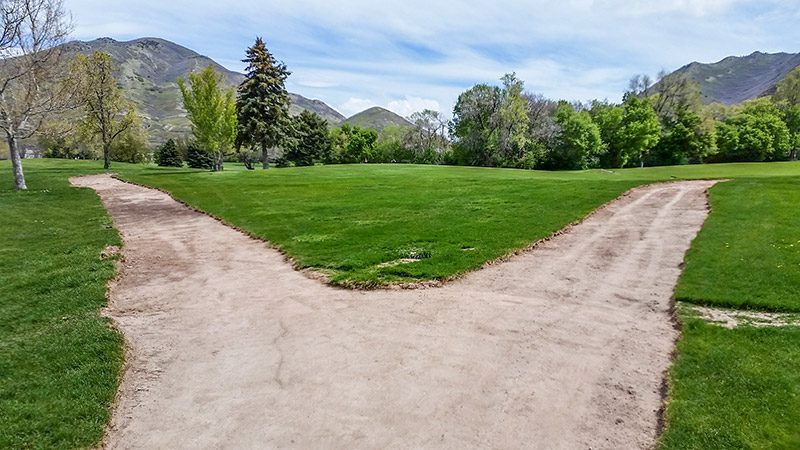 Wow isn't the photo above beautiful? The view back up to the par-3 15th green from the 16th tee used to be the great green Bonneville bent grass. Now it's this God-awful "Y" shape of future pavement. Fantastic! This is another strategic blunder too, but even worse than the one by the 17th. This is a 230 yard par-3. Players are always missing this green, mostly right. Yes, new cart path will be right. There will also be path to the left, for those who double cross themselves. And finally, path long for those who over club. Congratulations! You've just created a 230 yard version of the 17th at TPC Sawgrass, but instead surrounded the green with pavement instead of water!
Not Likely to be Final Thoughts
Some of the greatest golf courses in the world have no cart paths. The world's two greatest courses come to mind: Augusta National Golf Club and the Old Course in St Andrews.
Somehow the 87 year-old Bonneville Golf Course has managed to be the most popular course in the state for decades without cart paths. Despite having golf carts, Bonneville's great drainage, resilient bent grass, and hard ground has meant carts do little damage to the course. So why the change? To me it reeks of someone making decisions who knows nothing about golf, or perhaps doesn't care. This is someone who doesn't "get" the experience and authenticity of this great old golf course. This is someone who spends their time sitting at a desk, not walking the golf course.  Their vision of golf is carts, cart paths, and cart fees. This isn't some Disney course in Orlando. This isn't a country club. These new paths are an unnecessary expense which will make the course less appealing visually, and produce all sorts of problems from a playability standpoint.
If you disagree with me and think adding cart paths will improve Bonneville, I'd love to engage in some conversation with you. I mean it.
Last year Salt Lake City Golf Division allowed the Arthur Hills airport course Wingpointe to close and has been looking to close another course called Glendale. Now they're messing with their cash cow Bonneville. If it ain't broke, don't fix it.
What will Salt Lake City Golf Division screw up next? Perhaps the best thing for them to do would be to continue to own the courses and bring in a management company to run them and make the decisions they're clearly not smart enough or equipped enough to make.
On the bright side, Top Golf is opening soon in Salt Lake…

UPDATE May 5, 2016
A week later… They are putting in nice looking new sand into the bunkers. See instagram photo below:
I have to give credit where credit is due. Good so see them improving the bunkers, which were previously just dirt with rocks.