Written by:
Tony Korologos
|
Date:
Wednesday, April 27th, 2016
Categories:
Golf Apparel
•
Golf Gear
Tags:
Antigua
---
Let's say you just found out you have to jump on a plane (3 planes actually) to Singapore. Between long flights and layovers in multiple airports in multiple countries, you will be traveling for 35-40 straight hours. That was me a couple of weeks ago.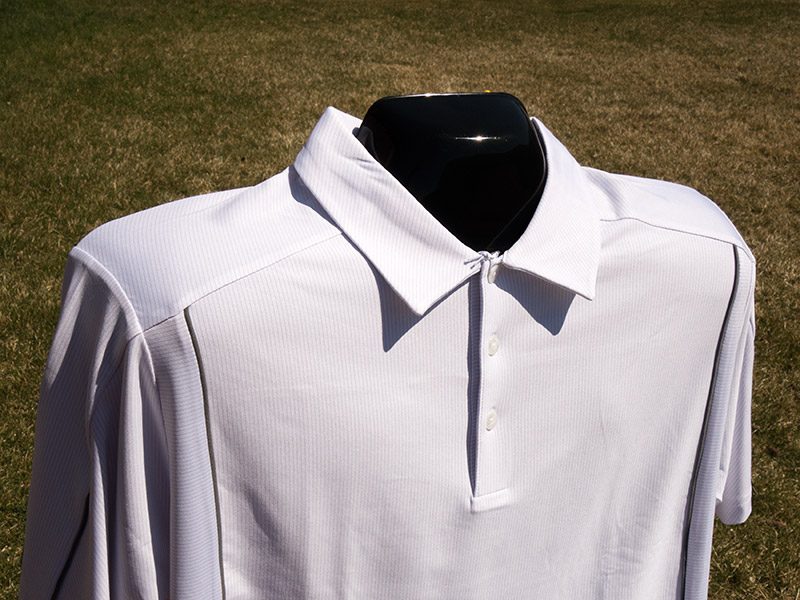 My first order of business was to insure comfort on such a long journey. I chose the Antigua Edge Polo as my shirt scripting. It's part of Antigua's "PERFORMANCE GOLF – MEN'S PERFORMANCE – 72 SPRING 16" collection. This is one of the most comfy golf shirts I've ever worn. After 35+ hours of traveling halfway across the planet, it still looked and felt great, unlike it's wearer.
Edge Polo Info
The Edge polo is made from 95% polyester/5% spandex. No cotton which is good by me. Cotton can be quite a pain between wrinkling, shrinking, breathability, and performance.
The polo features "Desert Dry" moisture wicking. This means the fabric is pulling sweat and moisture away from the wearer to the outside of the polo where it can evaporate.
Colors/Sizes
The Edge is available in five colors: White/DarkGrey (pictured), Dark Grey Heather/Hypnotic, Medium Grey Heather/Verdant, Black/Fire, Medium Grey Heather/Black
Sizes currently run from medium to double extra-large.
Final Thoughts
I easily have over 100 polos in my closet so it means a lot that I chose this polo to wear when traveling halfway around the planet.  I knew I needed comfort and durability.
On the golf course the polo shines as well.  The cut is extremely comfortable and does not bind or restrict the golf swing at all.
On or off the course, or on a plane for that matter, the style of this polo is very simple, sharp, and classy.