Written by:
Tony Korologos
|
Date:
Thursday, April 14th, 2016
Categories:
Golf Books
•
Reviews
Tags:
Gary Player
•
Golf Book
---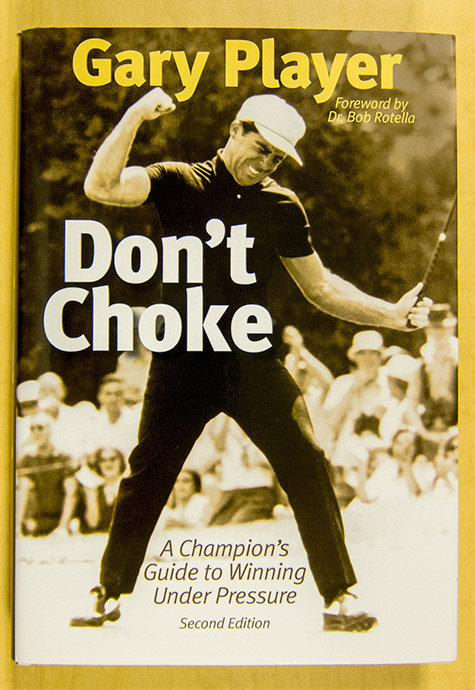 Following last week's Masters Tournament meltdown by Jordan Spieth I thought it would be an appropriate time to post my book review of Don't Choke – A Champion's Guide to Winning Under Pressure, by Gary Player.
About Gary Player
First, let's do a little quick history about Gary Player, which will show us that the man knows what he's talking about.
From Johannesburg, South Africa, Gary Player won a total of nine major championships in golf, fourth all time.  He is one of the few players to hold all four major championship trophies, known as the "Grand Slam."  Not even Arnold Palmer achieved this.  Mind you, Gary's success was during a time when some of the game's greatest players were at their best, like Jack Nicklaus, Arnold Palmer, Seve Ballesteros, and more.  Player won 18 majors counting the nine he won on the Champions (Senior) Tour.  Gary Player knows how to win.
Player has carried his winning ways to the business world, running a successful golf course design company which has built hundreds of golf courses.  Other areas Player has excelled in include real estate, marketing, and fitness.  Perhaps best of all is the 30+ years Player has put into giving back through charity work and the Player Foundation, whose mission is to "provide quality education for underprivileged children and strengthen impoverished communities plagued by disease and crime."
Don't Choke
Gary takes us through a quick tour of his major golf championships in sequential fashion.  He covers his preparation, lessons learned, mistakes made, and how to parlay all of those experiences into building up the don't choke mentality.   Though golf is how Gary tells the reader how to succeed, but the book is not necessarily about golf.
Most Positive Golfer EVER
Gary Player must be the most energetic and positive golfer to ever grace our planet.  He's so passionate about success and being positive.  He always has something positive to say, and shares his valuable knowledge of success.  You can feel his energy.  It's vibrant.
Title Irony
Gary always looks at the positive in situations.  If there's a fairway left and a lake to the right, Gary would tell you to focus on the positive telling yourself, "I'm going to split that wide fairway."  He would not recommend you focus on the lake by telling yourself "don't go on the lake."  This is what makes the title of the book a little ironic to me.  Saying "Don't Choke" is like focusing on the lake instead of the fairway.  Of course, the title is an attention grabber, so I get it.
The Secret to Gary Player's Success
There is no secret to Gary Player's success.  Player worked harder and more tenaciously than his opponents and kept a positive, winning attitude.
Can I Translate This To My Own Success?
So I've finished Gary's book and tried to absorb as much of his positive vibe as I can.  I hope to apply this attitude in my future golf and business experiences.  I hope this book helps give me the strength and courage to not choke on that 3-foot-putt on the 18th hole to win that $2.00 nassau.  That's pressure.
Gary Player Interview
I had the great pleasure of speaking with Mr. Player for an extended period of time in an interview about fitness.  It was truly one of the highlights of this modest, independent blog's 11+ years.  Hope you enjoy it.