Written by:
Tony Korologos
|
Date:
Tuesday, April 12th, 2016
Categories:
Golf Apparel
•
Golf Gear
Tags:
Antigua
•
Golf Apparel
•
Golf Shorts
---
Summer is coming fast and I have a perfect pair of golf shorts at the ready in the Antigua Men's Performance Paradise Golf Shorts, part of Antigua's "Men's Performance – 72 Spring 16" collection.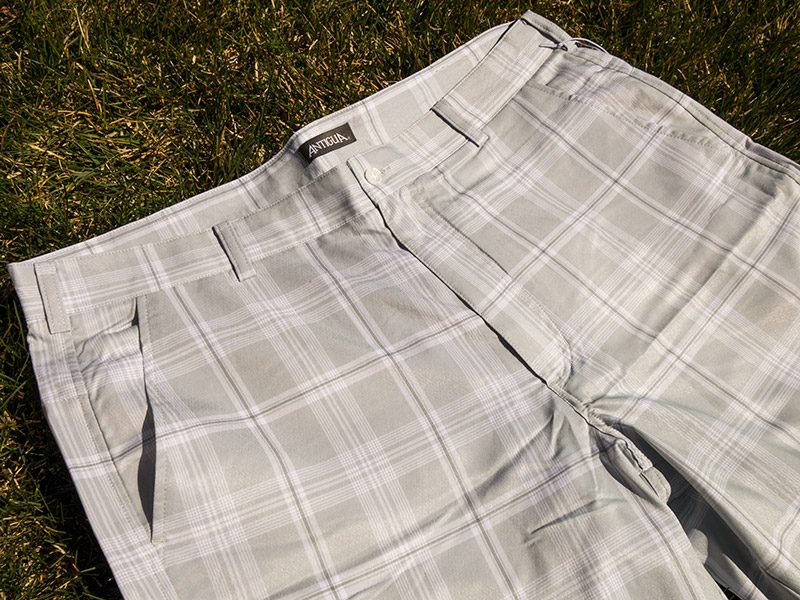 Specs
The Paradise golf shorts are made from 95% polyester and 5% spandex. These are the core fabrics in golf apparel these days and in most cases I think far better than cotton. These materials are far more durable, easier to care for, don't shrink, resist wrinkling, and breathe much better than cotton.
One other great benefit to the materials in these shorts is the Antigua "Desert Dry" moisture wicking system. The fabric helps lift moisture off the body to the garment, where it then can evaporate. Great for summer.
Sizes/Colors
This is a seasonal offering and therefore has some limited availability. These shorts are available in six different colors. I recommend one of each.
The size range for these shorts ranges from 30-42 inches on the waist. The inseam is 10 inches.
On and Off the Course
These shorts are very light, soft, and extremely comfortable. In fact, they're the ones I chose to wear when flying to Singapore last week. When you know you're going to be on airplanes and in airports for 35 straight hours, you must wear comfortable clothing. It tells a lot that these are what I chose for that ordeal!
On the golf course I've really loved these shorts.   I'm doing a lot more walking this year and need not only comfort, but the moisture wicking.  During the swing and while walking the shorts are very comfortable and move with my body, rather than resisting it.
The look and style of these shorts is classy, and matches up well with a huge portion of my gigantic selection of golf shirts and outerwear.
Conclusion
Antigua has been one of golf's best apparel brands for years.  The Paradise golf shorts are another fine example of Antigua's quality, style, fabrics, comfort, and performance.  I strongly recommend adding these shorts to your next apparel script.