Written by:
Tony Korologos
|
Date:
Saturday, April 2nd, 2016
Categories:
Golf Apparel
•
Golf Gear
•
The Masters
Tags:
Bobby
•
Bobby Jones Apparel
•
Masters Tournament
---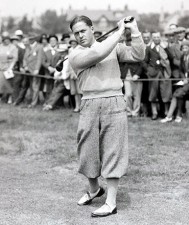 Quick quiz: Who is the all-time best amateur in the history of golf, and who happens to have the same name as one of the best golf apparel brands on the planet, and who also was the founder of Augusta National Golf Club and the Masters Tournament, and whose photo is the only photo on the wall above my workstation at HOG world headquarters?
Bobby Jones
Bobby Jones is my favorite golfer in history, with Jack Nicklaus a close second. I wish I could have met the man before he passed.  It would have been a lifetime event.  Bobby Jones is also one of my favorite apparel brands and I've reviewed many of their fine pieces.  See some links at the end of this post.
I almost didn't want to post this in order to give myself a better chance at winning this, but Bobby Jones apparel is running a Masters contest. Pick the winner and have a chance at winning a $1000 Bobby Jones gift card. I could melt a Bobby Jones gift card in seconds.  SECONDS!
If I don't win, I hope you do. If you do win, my shirt size is XL. Just sayin'.
Related Links
Bobby Jones 1/4 zip baby alpaca sweater