Written by:
Tony Korologos
|
Date:
Thursday, March 31st, 2016
Categories:
Golf Balls
•
Golf For Women
•
Golf Gear
Tags:
Dick's Sporting Goods
•
Maxfli
---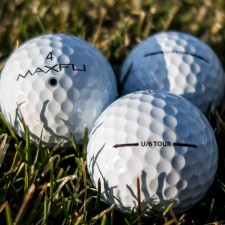 It has been a long time since I reviewed a Maxfli golf ball. In fact, the Maxfli Blackmax prototype may have been the first golf ball ever reviewed here at Hooked on Golf Blog, March of 2005. I used to game Maxfli's waaaay back when Greg Norman was the #1 golfer in the world, the HT 100 Balatas to be exact. Yes, that long ago.
I've got a box of Maxfli U/6 Tour golf balls to test out courtesy of DICK's Sporting Goods, who is running specials on all sorts of Maxfli golf balls. This is a six layer ball. I didn't even know anyone made a ball with more than five layers.
The main requirements for my game is a "tour" cover, usually urethane, and a soft feel because of my golfer's elbow. Since this ball has a urethane cover and is designed for slower swing speeds, it could be a good match for my game, or lack thereof.
I hope to start my first round of testing these Maxfli U/6 Tour golf balls this weekend, provided my tweaked back is done tweaking or twerking by then.
Let us pray.