Written by:
Tony Korologos
|
Date:
Wednesday, February 17th, 2016
Categories:
Golf
•
Golf Books
---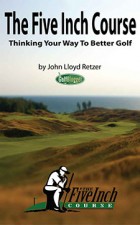 I've admired and been envious of the great golf books some of my fellow golf blogger friends have written.  My pal Neil Sagebiel blew the doors off my golf cart with his first book on the 1955 U.S. Open, The Longest Shot – Jack Fleck, Ben Hogan, and Pro Golf's Greatest Upset at the 1955 U.S. Open. My longtime pal John Retzer, known as the Golf Blogger, wrote a great golf tips/advice book called The Five Inch Course – Thinking Your Way to Better Golf.  I know I could shave strokes off of my game if I'd just take John's advice, but the five inch space between my ears is so dense it makes a black hole look like marshmallow.
My favorite all time golf book is The Little Red Book.  The book is a collection of thoughts on the game by perhaps the best golf instructor of all time, Harvey Penick.
I've admired the effort, time, and research it must have taken for my friends John and Neil to write a golf book.  And let's face it, golf writers are not in it for the money.  There's no way I could imagine myself putting in the time to research and write such a book.  I couldn't compare to those offerings if I tried.  So I won't.  I don't have the huge blocks of time it must take to write a book. Then again, there are some 5,000+ blog posts here, each one a thought or topic on its own.  Harvey Penick's book is basically a lot of short blog posts printed on paper.  If I sought out to write a book, "one thought at a time" maybe I could do it?
I could I suppose, but who needs another golf book?  I must have 50 in my review queue I'll never read, and the 50 I have read have done nothing to help my game.  I'm probably just too stubborn or dense to benefit from reading them.