Written by:
Tony Korologos
|
Date:
Monday, January 4th, 2016
Categories:
Golf
•
Golf Apparel
•
Golf For Women
•
Golf Gear
Tags:
CEP Compression
•
golf socks
---
Here's my first review for calendar year 2016, the CEP Compression Sock line.
CEP Compression is a sports brand of medi GmbH & Co. KG headquartered in Bayreuth, Germany. CEP's products include various apparel items for a wide variety of sports like running, biking, soccer, triathlon, basketball, and of course golf.
Why Compression Socks?
If you've never tried compression socks you are missing out on some great performance enhancement as well as a great feel. The compression of these socks helps reduce muscle and bone fatigue, increases performance recovery, helps blood circulation and helps speed up lactate metabolism. Golfers need every edge they can get so why not take advantage of these properties?
Feel
I sport compression socks like the CEP socks quite often, even when I'm not on the course or doing anything athletic. The comfort and feel of compression socks is very hard to describe. I can feel a big difference during wear, and especially at the end of the day.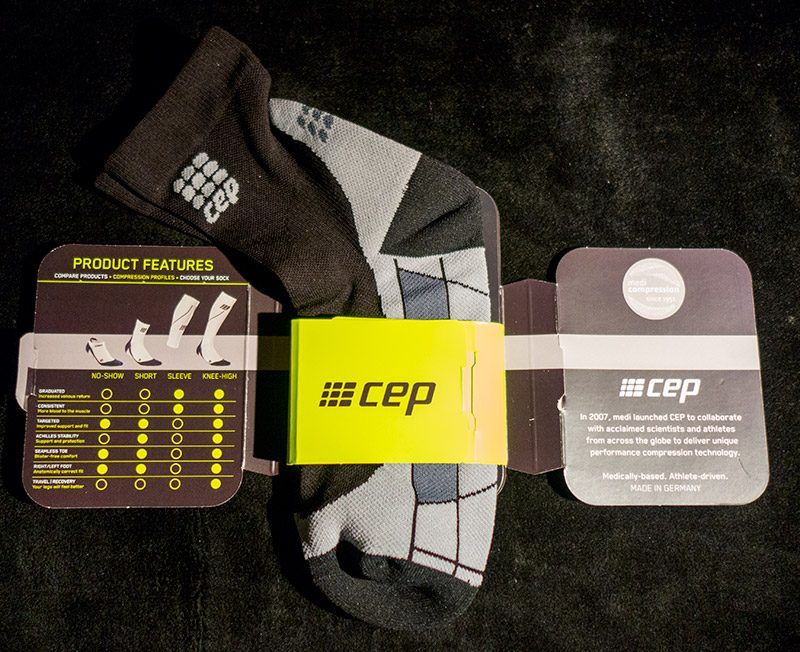 Models
I've been using two different sock models, the Dynamic+ no-show, and the Dynamic+ short socks. The no-show are basically ankle socks and the no-show (first photo above) are about halfway up the calf. The no-shows run around $18 and the short version runs around $22.  There are numerous other models depending on the sport/application, and for men or women.
Conclusion
I can't claim that these socks have shaved any strokes off of my golf game, yet.  It's winter and I haven't played in a couple of months now.  From past experience using other compression socks I can say I'm looking forward to the refreshed feel and lack of fatigue when I finally do get back on the course.
CEP's are well made and very comfortable.