Written by:
Tony Korologos
|
Date:
Saturday, December 12th, 2015
Categories:
Golf Accessories
•
Golf For Women
•
Golf Gear
•
Reviews
Tags:
Flat Tee
•
Golf Tee
---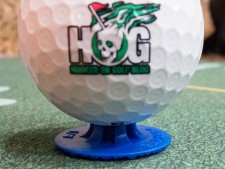 It's a Saturday evening, around 8:00. What are most regular people doing this time? Having a nice dinner. Perhaps catching a movie, some live music, or having a fun get together with family and friends.
Not a dedicated golf blogger. Nope. I'm reviewing an unconventional golf tee, the Flat Tee.
How many times have you tried to "tee up" an iron on a practice range which is mat based? Doesn't work, does it? You can't get a tee in the mat. So you are stuck with the rubber tee they supply which is way too high, or you try to put wooden tees in there. It never works.
Flat Tee was designed primarily with these driving range mats and situations in mind. The golfer can tee up his/her choice of a 1/4″ or 3/16″ flat tee, and get a perfect ball height for practice. Suitable clubs could be anything up to a 3-wood. Driver? Na.
First off, I can't stand mats. It's nearly impossible to hit a bad shot on mats because the cement underneath makes the club bounce right into the ball, rather than taking too big of a divot. For someone with a steep granny swing like mine, mats don't expose or show bad shots. I hit good shots all the time on mats. On real grass those same shots may be too fat. Now I do have to use mats, I can use the Flat Tee for iron practice.
Critiques
The design of the tee, and its "treads" on the bottom help make it flip on impact and it usually stays in the general area of the strike for easy retrieval. But sometimes if you take deep swing, the whole tee can fly… away. This could be especially problematic at a range with multiple levels.
Conclusion
The Flat Tee website has the caption on the front page, "The Future of Golf." Uh, that's a little exaggerated. But if you hit off of mats a lot and need a tiny bit of space between the cement and your ball, this is the answer.