Written by:
Tony Korologos
|
Date:
Sunday, August 16th, 2015
Categories:
FedEx Cup
•
Jordan Spieth
•
Miscellaneous
•
PGA Championship
•
Pro Golf
•
Rory McIlory
•
Tiger Woods
•
U.S. OPEN
Tags:
Jason Day
•
PGA Championship
---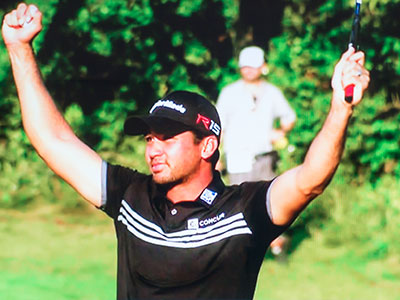 2015 PGA Championship Commentary
A Day of Reckoning – Jason Day Wins His First Major at the PGA Championship
I swear I'm almost as relieved Jason Day captured a major championship as Jason Day must be. I even cried too, along with the wife, and she doesn't know golf. Jason has been so close and had so many heartbreaking finishes. Day's is a truly great story of resilience, persistence, tenacity, and heart. Hats off to Jason Day for a truly amazing and inspiring week of golf, and the years of his journey to get to this point.
Day's historic day was capped off with a finish at -20, never before achieved in a major… ever.
"The way that I felt confidence wise with my game, I just felt like no one was going to stop me today even though this was one of the hardest rounds I have ever had to play. Playing with Jordan was very difficult, just being able to watch what he was doing. But on top of it, grinding it out as hard as I possibly could. It is a fantastic feeling, I can call myself a major champion now and it feels really, really good." ~Jason Day
Jordan Spieth
Jordan Spieth is amazing, in a totally different way than Tiger Woods was in his prime.  I can't pinpoint what makes Spieth so good.  He's not super long.  He's not the best ball striker on tour. He's not the best putter on tour (he's really good, don't misunderstand).  His short game isn't the best on tour…  But what he seems to have is the ability to PLAY GOLF.  He's as strong mentally as anyone and the pressure simply does not get to him.  In fact, it seems to make him play better.  A look at his stats on the year prove that.  His scoring in majors is better than in non-majors!
Spieth locks up 2nd place in class, giving thumbs-up to Jason Day when he knew the tournament was Day's.  Spieth's second place finish at the PGA moves him to #1 in the world golf rankings. Everyone knew he was playing the best golf on the planet, even Rory McIlory.  McIlory shows nothing but class in this tweet:
Tiger Woods
What can you say about Tiger Woods, who missed his 3rd consecutive cut in a major with scores of 75 and 73. The numbers don't lie. Tiger has dropped to 285th in the world rankings.
Branden Grace
Branden Grace has come out of nowhere (at least in my small cranium) and is suddenly a regular contender in majors. 3rd place finish.
Justin Rose
Justin Rose is a total stud. Rose was in the mix with a 4th place finish. More importantly though his eyewear apparel script was some kind of Elton John, The Fly, Elvis hybrid. Nicely done.
Whistling Straits
I didn't hear or read one complaint about the golf course this week, unlike Chambers Bay and the 2015 U.S. Open. The course was fantastic and the PGA wasn't afraid to set it up for low scoring. Majors don't have to be even-par events. The excitement this week was fantastic and the setup truly produced the player who was the best in the field.
Sad Day
With the PGA Championship's conclusion comes my yearly moaning that the golf season is for the most part over. The FedEx Cup does not tickle my interest whatsoever, and the Presidents Cup is not far behind that. I will likely tune in to professional golf next when the 2016 Masters Tournament is on.