Written by:
Tony Korologos
|
Date:
Monday, August 10th, 2015
Categories:
Golf
•
Golf For Women
•
Golf Instruction
•
Instruction
•
Jordan Spieth
Tags:
Jordan Spieth
•
Putting
---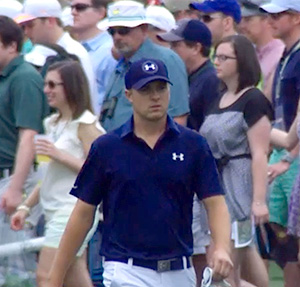 During the last couple of practice sessions on the putting green I tried the technique Jordan Spieth sometimes uses on shorter putts.  He will actually look at the hole and execute his putting stroke.  He's not looking at his golf ball or having his head/eyes down in the stroke.  Conceptually it is not that odd.  Think about foul-shooting in basketball.  The shooter is looking at the basket, not the ball.  Well maybe anyone but Shaquille O'Neal.  No idea what he was ever looking at.
It was weird trying this technique.  I made the first one.  It felt strange and was very odd to see the hole, then have the ball appear in my field of vision, let alone being on the proper line and then going into the hole.
I'd say using this technique I was making a large percentage of the putts in short range.  I was surprised to make as many as I did without even looking at the ball.  I suppose that means my stroke is fairly pure and consistent, even when I'm not looking at the ball.
Will I put this in play?  Nope.  I make a lot of putts and I'm very confident in my putting.  No need to mess with something that isn't broken.
Someone should have told that to Tiger Woods.