Written by:
Tony Korologos
|
Date:
Monday, May 25th, 2015
Categories:
Boneheads
•
Golf
---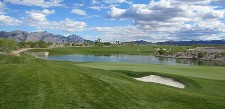 Yesterday's round was painful on a number of levels.  First, I tweaked some strange muscle in my lower left back which made swinging tough.  At the top of my swing and end of my backswing with the putter it felt like someone was jabbing me with an ice pick.  Naturally, that made for some very errant shots and a big number in the final column of the score card.
On the 4th hole my foursome waited 15 minutes for the threesome in front of us to clear the green.  By the time they left the green there were two groups waiting to tee off on #4 tee, along with us approaching the green.  Then they sat there on the 5th tee talking and doing nothing.  No group in front of them.  We yelled ahead and told them to speed it up.  Naturally instead of speeding up play they called the pro shop and complained about us.
At the five hour mark we were on the 18th tee…. waiting.  The slow threesome who complained about us was in the fairway…forever.  One guy was giving the other guy a lesson in the fairway.  Once we saw that we did what any polite golfer would do at that point.  We hit our tee shots and hoped for the best.
Ignorant jerks like this are reason #375903 the golf industry is struggling.