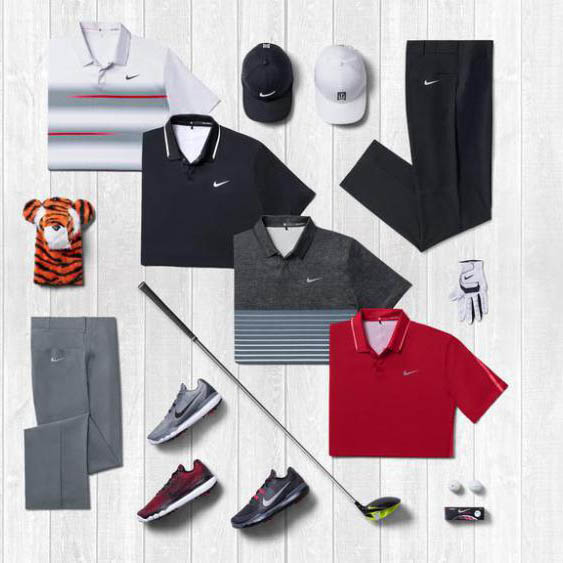 Written by:
Tony Korologos
|
Date:
Monday, April 6th, 2015
Categories:
Boneheads
•
PGA Tour
•
Pro Golf
•
Rory McIlory
•
The Masters
•
Tiger Woods
Tags:
Apparel Scripts
•
Masters Tournament
---
This is without a doubt one of the best weeks of the year in golf.  Yes it is apparel script season.  You see, the golf PR and golf apparel companies have really gone to great lengths to promote their products, and "apparel scripts" are getting more and more elaborate.  While I appreciate fine apparel, I don't find myself having to have a certain pair of shoes because x-PGA Tour player wears them.  Same with the WITB (what's in the bag) posts.  These apparel scripts have really flooded the golf media sphere.  The PR agencies send them out and all the sites post them for what I figure are two reasons: 1. They want to continue to get swag and fear if they don't post, the swag boat will sail.  2. They don't have to actually create content.  It's all done for them.
I've made it a policy not to post apparel scripts.  When I started this site over 10 years ago I vowed to try and be as original as possible, and not post the same content everyone else does.
Today I'm making an exception though.  I feel I can add some value to these scripts, and a viewpoint (hopefully very twisted) not found elsewhere.  So let's get to it.
Tiger Woods and Rory McIlory
How about that video above? These people are serious about their apparel scripts.  Below are Tiger's and Rory's scripts (click to enlarge):
What stands out to me most about the above scripts are that somehow Tiger and Rory will both be golfing in shirts which are missing the right sleeve.  Heaven forbid there being any inclement weather as Rory's outerwear layer is only the right half of his body.  No left torso or left arm.  Neither of these scripts has socks, which could be tough on those Augusta hills.  Neither has underwear.  That's an issue.
Rickie Fowler Masters Apparel Script
Below is Rickie Fowler's Masters apparel script from Puma (click to enlarge).
I guess the "missing right arm" thing is big this year because like Tiger and Rory, Rickie's script (above) has no right arms at all. Also, no socks or underwear. I suggest some anti-chafe cream.
Jason Day Masters Scripting
Jason Day (my pick once again to win and lost money last year in Vegas) has probably the best apparel script, from adidas.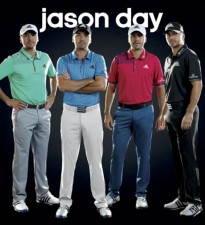 As far as I can tell Jason is not missing anything obvious.  Strangely, all of his shirts do come with the right arm intact.  Can't see if he has socks or underwear on, but I'm going to give him the benefit of the doubt.
Louis Oosthuizen Apparel Script
I really like Louis Oosthuizen. He seems to always bring some serious game to Augusta. But he might have some problems this week because of issues with his apparel scripting.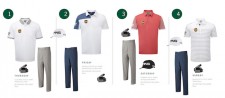 While his outfits all do include right arms, I think Louis is going to be at a big disadvantage with no shoes, underwear, or socks.  I don't see a hat either.  He might get sunstroke without a hat, if he hasn't had to withdraw due to sore bare feet.
Tony Korologos Scripting
Last year I broke the mold on apparel scripting for the Masters, doing my own Paulina Gretzky poses:
I'm not sure I can top last year's script, but I'm going to give it a shot. Stay tuned.