Written by:
Tony Korologos
|
Date:
Wednesday, April 1st, 2015
Categories:
Boneheads
•
Golf
•
Golf Babes
•
Miscellaneous
---
Ah yes, it is April 1, 2015.  April Fool's day.  There are a few golf April Fool's jokes out there already. Perhaps the best one was the "Chris Berman Fox Golf" one, where Berman supposedly had moved to a prominent position on the Fox Sports golf broadcasting team.  I know it is April fools, but some things should NOT be joked about.  Golf Blogger poached my concept of golf magazines going bankrupt without pictures of Amanda Dufner in a bikini to post.  If it were anyone else I'd give them hell, but John is a good friend so no worries.
I've been racking my tiny brain, trying to come up with a really witty but believable April fools blog post.  I'm struggling.  I've concluded that my struggles are because most of golf media and much of the golf industry, the real deal, is a joke.  My Twitter, Facebook, and email streams are full of "Masters apparel scripts."  Bloggers and golf sites blindly repost that crap.  Sergio Garcia's Friday Masters pant color is not news.  It does not entertain. It does not inform.  It does not grow golf.   It is a sales pitch which fills the golf sphere with junk, which is regurgitated over and over. I guess it gives golf PR something to work on and gives golf writers something easy to produce, rather than actually writing something original and entertaining or informative.  Low hanging fruit.
I work with golf PR people and agencies on a daily basis and I do help them with reviews and articles which I think are informative, entertaining, and interesting.  Sorry, but apparel scripts are none of those.
Too Much Tiger?
Twitter almost blew up yesterday because Tiger Woods's plane was spotted at the Augusta airport.  Is there a paid golf "journalist" sitting at the Augusta airport waiting to report on this?  Is it the same guy who covers Tiger's parking spot and his entrance and exit from the porta-potty?  Same one who is there at the perfect time to catch Tiger blowing a big snot out of his nose?  Probably.
A look at Golf.com's "news" page a few days ago was puzzling.  There were three Tiger Woods photos and a total of four articles about Woods.  It is amazing to me that a player who hasn't played in weeks, has dropped out of the world top 100, and is literally falling apart physically and mentally on the golf course, warrants so much coverage.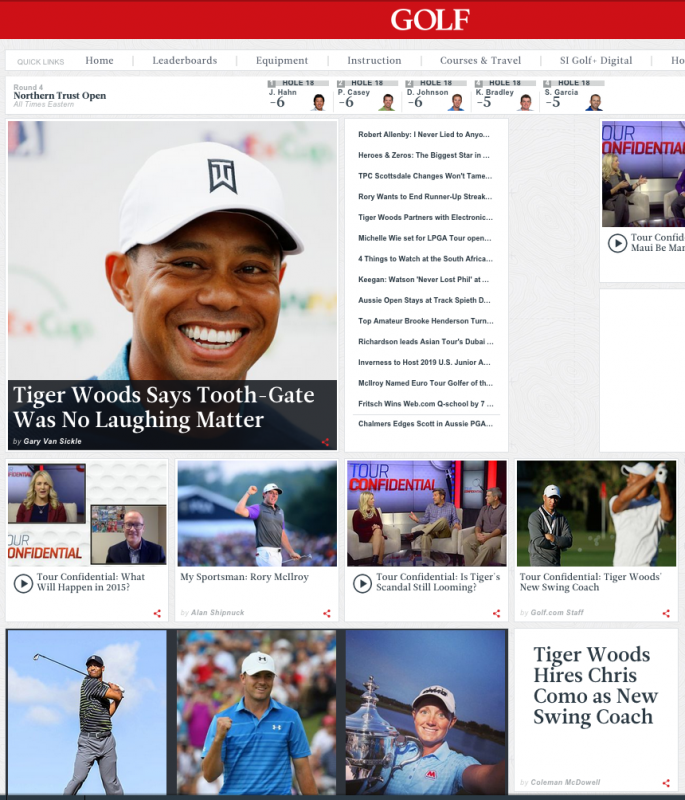 Too Much T&A?
Then the big golf media meltdown yesterday, the news that Amanda Dufner and Jason Dufner filed for divorce.  I thought that was perhaps the best April 1 joke ever and half expected them to laughingly announce so today.  The fact that Amanda Dufner is "news" makes me ill, all due respect.
Golf media is a joke, and not just on April 1.
How could I pen a golf media rant without a "most beautiful women in golf" mention?  Ah yes, hot tour wives and girlfriends.  Hot women in golf.  Hot lady golfer Blair O'Neal shows us how to hit a bunker shot in a g-string and stilettos.  Golf.com and Golf Digest have gone all out T&A for linkbait.  Their readers are complaining vehemently on their Facebook pages, but those complaints fall on deaf ears because, well, there are hits.  Who cares what kind of hits or if the audience is a drive-by.  As long as these golf sites/magazines can report to their advertisers that x-hits happened and collect their ad revenue, producing classy material does not matter.
How about this "Keegan Bradley's girlfriend" post…  wow.  Just wow.  Pulitzer Prize winning material here folks:
Boobs for hits, all due respect of course.
On Course
Thankfully now that spring has sprung here at home I've been able to spend more time on the golf course and less time in front of my computer.  That has lessened my exposure to this garbage, and thus my sanity has come back a bit from nearly jumping off the golf cliff.  I'm back to actually playing and doing actual golf gear reviewing and testing, thankfully.
I was this close to shutting down my blog and disconnecting all my golf social networking ties.  That's no joke.