Written by:
Tony Korologos
|
Date:
Tuesday, March 31st, 2015
Categories:
Golf
•
Golf Clubs
•
Golf Equipment
•
Golf For Women
•
Golf Gear
•
Reviews
Tags:
PowerBilt
---
After this past weekend's round I felt it was time to post my review of the PowerBilt N7 "Air Force One" DFX Tour driver. Yes, the name is more cheesy than a pound of Velveeta with cheese on top, but I don't care.
I've been gaming this driver for a couple of months now and I'm thrilled with what this driver has brought to my game: distance, accuracy and confidence.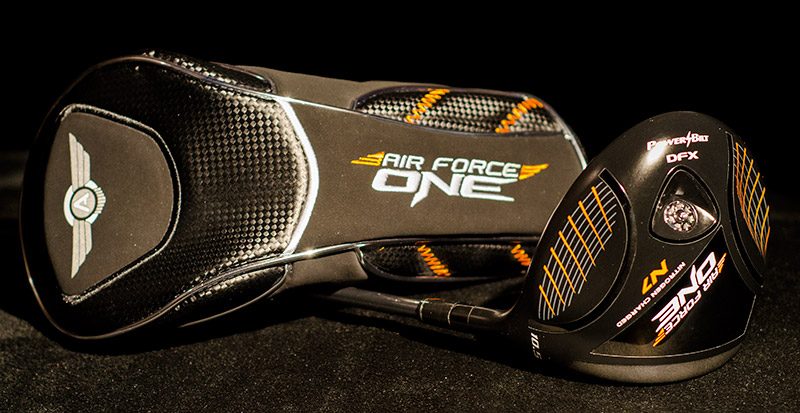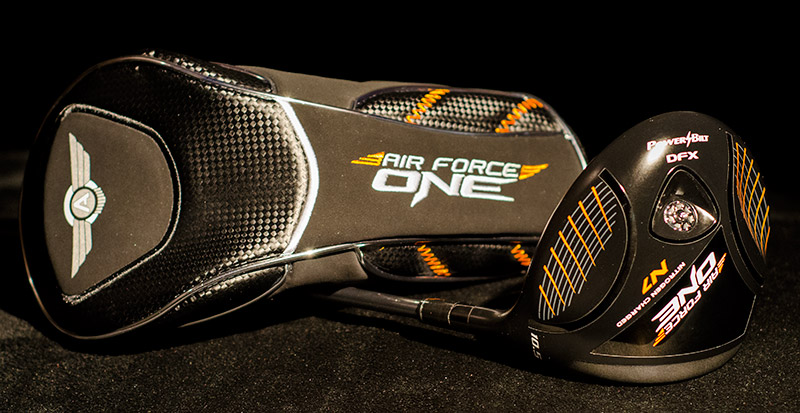 Features
The "N7" in the name of this driver represents the gas nitrogen.  You see, the head of this driver is "charged" with it.  So if the Terminator T1000 is coming at me, I can crack open my driver head and cover him with nitrogen.   According to PowerBilt, the nitrogen charge reinforces the club face without adding weight to the club.  This allows for maximum trampoline effect and the thinnest legal club face, but still has great strength.  The nitrogen is also not susceptible to temperature changes so regardless of conditions it remains consistent.  The result is increased ball speed, which I can't believe I'm verifying, but I am.  It sounds like such a gimmick I know.  But once again, I'm about results so if the lampshade on the head thing helps my score, I'll do it.
The nitrogen isn't the only notable feature in the "AFO." The body is forged titanium with the popular cup-face design. Cup-face design is very popular among many drivers. The cup-face shaped front is welded onto the body. The head is aerodynamically designed to reduce drag and allow more club-head speed.
Speaking of the face, the AFO features a "deep" face as seen above. This means the height of the face is where much of the square footage is, rather than the width. If you hit a lot of shots thin or high on the face, this may be a better choice.
Specs
The AFO DFX is available in four lofts: 8.5°, 9.5°, 10.5°, 12.5°. All come standard with a 45.5″ shaft and a 58° lie.
There are roughly 25 shaft options available. The shaft in my 10.5 degree test unit is a Fujikura Pro 63.
On The Course
What REALLY counts is how this thing performs on the golf course.  I don't have an Iron Byron (robotic golf swing machine), nor do I have a Trackman to capture exact launch angles and spin rates.  My reviews are more tactile and personal in nature than those gear-heads who are trying to get one less revolution per minute in sidespin and refuse to play driver-x because its launch angle is .000003 degrees the wrong direction.  I wonder when Iron Byron will finally find the perfect club for his perfect swing anyway? Lots of places seem to test for him and not the average hack like me who hits the center of the club face a couple of times per round, if I'm lucky.
The feedback this club gives is great.  In golf "feedback" is the feel and sound of the club.  I really like the pinging sound and on that rare occasion the sweet spot is hit, the sound is even better.  You know when you nutted it.   I can tell through the feel of the club when I hit one thin, on the toe, on the heel or high on the face.  Most of my mis-hits on this club are toe shots.  The technology helps me keep plenty of distance on those toe shots, with a slight draw.
I almost always draw this club, or hit it straight.  I seldom hit it right or fade it.  I haven't tried too many times to carve a fade out of it.  I haven't wanted to mess with something which works.  I'm sure eventually I will try to work the ball more, but since I know the straight ball or slight fade is pretty consistent I see no need to change anything.
Right now I'm seeing some very sizeable distance gains.  I'm just about to the point of humiliating a regular golf opponent who just last year was out-driving me.  Now I'm "Wal-Marting" him.  He's pretty demoralized.  I have several glory stories with this driver already.  I've driven a OVER the reachable par-4 14th at one of my home courses, River Oaks.  The extra length has really made par-5's more reachable for me.  In my last round I made birdie on ALL four of the par-5's, and just missed an eagle putt on the last one.  Stats for my last round were pretty awesome.  I had a couple of drives in the 330 range on two par-5's, and a couple in the 280 range uphill.  Average was 303.  Even better than that was my fairway percentage, 12/16 for 86%.  It's not like that every round, but even when I'm off the numbers are still pretty good.
Critiques
My only critique is a bit of a jab at the cheesy name, "Air Force One." I often refer to my driver as "Snakes on a Plane," another terrible airplane move like Air Force One was.
Conclusion
I get so sick of golf marketing and their "more distance" claims.  Most are bogus.  If they were right, we'd all need to play 10,000 yard courses and our drives would be going 500 yards.  That said, I've picked up quite a bit of distance with this club.  Is it the nitrogen?  Is it the cup face?  Hell, I don't know.  For all I know it is the shaft.  Since I most often draw this club, the ball is probably rolling farther.  Whatever the reason, I'm killing the Air Force One and hitting a very good fairway percentage.
Until I find a driver that outperforms this one my gamer driver is Snakes on a Plane… oh sorry… Air Force One.
Related
For more images, check out the Hooked On Golf Blog PowerBilt photo gallery.