Written by:
Tony Korologos
|
Date:
Monday, March 16th, 2015
Categories:
Golf
•
Golf For Women
•
Miscellaneous
Tags:
Golf Industry
•
Tiger Woods
---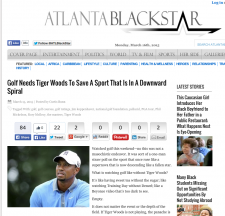 I can't take much of this idiocy anymore.  The article "Golf Needs Tiger Woods To Save A Sport That Is In A Downward Spiral" on the website Atlanta Blackstar (never heard of it until today) is a triple bogey, including a shank out of bounds.  It is a rehash of a theory which has more holes than the courses at Pinehurst.
Golf does not need Tiger Woods to save it.
It is not up to Tiger Woods to "save a sport that is in a downward spiral," nor is it his job.
Author Chris Bunn writes of the decline in viewership and attendance at PGA Tour events which coincides with Tiger Woods's absence and struggles.  Fair enough.  I agree.  Chris writes that since Tiger Woods came into the picture PGA Tour purses have skyrocketed, making many Tour players would-be millionaires.  I'll give him that too.  Yes, thanks to Tiger's popularity the PGA Tour and the media outlets that cover it had a hell of a run.
Chris says golf is in a downward spiral, and Tiger is the one to save it.  There are  so many ways this is wrong I can't begin to count them all.  Chris has lumped apples and oranges into one basket and is calling them all apples.   The apples are the PGA Tour and the media who cover it, and the oranges consist of the people who play the game, buy the equipment, book tee times, and travel to golf destinations.
The argument against my previous statement is that there's so much more "exposure" to the game when Tiger plays or is winning tournaments.  That exposure means more "awareness" for the game and would therefore translate to the entire industry and its bottom line.  That sounds great except for the fact that golf was declining during a period in which Woods was excelling.  Tiger just caught up to it.
Further, who exactly are those fringe viewers who will only watch when Tiger is playing?  Are they actual golfers?  Or are they fly-by sports fans just flipping channels on the weekend who tune in if they happen to notice that Tiger is playing?  Back in the years of Michael Jordan I would tune in and watch basketball, though I had no interest in the Chicago Bulls or the NBA.  I didn't go down to Dick's sporting goods and buy a basketball, and I didn't join my local rec league after watching him play.  I watched Jordan because he was the best.
The sport of golf existed 1,400 years before Tiger Woods was born, and barring the earth being destroyed or human civilization wiping itself out in the next 40-50 years, golf will exist after Tiger is dead.
It is my not-so-humble opinion that Tiger Woods has little to no effect on the "sport" of golf.  The effect he has is on viewership, not participation.  Whether Tiger plays, doesn't play, plays well, doesn't play well, is in the field, is not in the field, has X-Majors, breaks Jack's record, doesn't break Jack's record… has no bearing on whether I play golf, where I play golf, or what money or time I decide to put into playing golf.
In his article Mr. Bunn cites that TaylorMade Golf's revenues are down some 28 percent.  It would seem that the implication there is that if Tiger was "back," TaylorMade's sales would not be hurting?  I don't think so.  TaylorMade's sales are down because the economy is down, people don't have the extra cash for a 12th driver, and the company releases a new golf club every 42 seconds.  Golf equipment buyers finally hit the wall and Tiger's status will not change that or give them more expendable money.
In his article Mr. Bunn cites "Young people—that coveted 18-to-30 demographic—playing golf has fallen an incredible 35 percent over the last decade."  So am I to conclude that if Tiger was playing better or more often this demographic would suddenly want to golf more?  I don't think so.  They're too busy posting selfies on Instagram.
Chris writes:
"If, by some amazing reversal, Wood is in contention on Sunday, golf executives around the country would be kissing his spikes. He moves the interest meter like no one in sports has since Michael Jordan."
Yeah, right.  And who is "Wood" anyway?  I can see the conversation between golfers on the first tee now:
Fred: "Hey Bob did you hear Tiger is back?  He won last week!"
Bob: "Yup!  I sure did.  Watched the whole tournament.  Since Tiger won I'm off to buy the latest TaylorMade driver.  After that I'm going to put a down payment on a new lot for a home I'm going to build on a golf course."
Yeah.  That happens all the time.
When I go to my home courses they're packed with golfers if the weather is good.  We are there to golf.  We are there for the sport, the competition, the camaraderie. We are not there because of anything Tiger Woods does or does not do.  When I buy a new driver, I buy it because I have disposable income and I think the driver will help my game.  I don't buy it because Tiger won last week or is playing well.  I will not be buying golf real estate based on how many FedEx Cup points Tiger has.
Yes The "Industry" Is In Decline
I'll agree the golf "industry" is in decline.  Equipment sales are dropping.  Courses are going bankrupt.  Why?  Here are a few reasons:
Golf is expensive
Golf is difficult
Golf takes too much time
The golf industry (courses, manufacturers, media, marketing companies, golf real estate) over-expanded and over-saturated
In the digital, millenial,  instant self-gratification world we live in golf is never going to be what those previously mentioned "golf executives" thought it would be in the golf bubble of the 2000's.  In that period, like many other industries, golf over-expanded.  TaylorMade overexpanded.  Golf courses over expanded and now are trying to figure out how to pay for the 100,000 square foot "wedding and banquet" facilities, and the $60,000 fountain in front of the clubhouse.  It does look nice, even though they had to fire half the maintenance crew and let half of their greens die because of it.
They all went through the buffet a few too many times.  All that's left now is dessert and a few wilted brown lettuce leaves, and that one piece of black olive that's between the olive bowl and the croutons.  The industry is resetting to a level which is more reasonable, and more sensible.  The buffet is gone. It's Top Ramen time for a while, but golf will survive and might just end up better than it was when Tiger won his 14th major in 2008.
The "sport" of golf lives on and will live on. Take a trip to Scotland and watch entire families play the game. Watch two young teens putt on the Himalayas on their first date.  Look a few feet ahead of them to the couple in their 80's who have been married for 60 years, and still have that nightly match and a wee nip of scotch.  None of them are on the course because of Tiger Woods.  Take a look at my Sunday "money game."  We're there to take that damn two bucks we lost last week after than awful 3-putt on the 18th.  We golf to breath some fresh air; take a nice walk.  We golf for the challenge.  We golf for that all too seldom time when we "hit the screws" on our drivers and the ball goes 40 yards farther, and we can humiliate our friends a.k.a. opponents.
I don't golf because of Tiger Woods.  I golfed before he hit the scene and I'll golf long after he leaves the scene… if I'm still alive.