Written by:
Tony Korologos
|
Date:
Monday, January 12th, 2015
Categories:
Boneheads
•
Golf Media
•
Miscellaneous
---
Golf media has really gone downhill.  The major publications like Golf Digest and Golf Magazine have resorted to posting slutty pictures of the "hottest women in golf" and all sorts of lowest common denominator trash, just to generate viewers.  Its not about golf, its about tits and ass, and getting the easy hits.  Yes, the fix-your-slice articles and top-100 lists have taken a back seat to boobs.
Golf marketing is not much better.  Golf marketing companies, golf organizations, and major manufacturers come up with all sorts of stupid slogans and ways of bastardizing the game under the guise of "growing golf."  Their motivation is making money.  They don't care about ruining the game.  They care about the bottom line, selling more drivers or keeping their organization afloat.
The last year or so has seen some really dumb slogans, ideas, and ways of bastardizing the game in the name of growing it, like Hack Golf, Foot Golf, Golf 2.0, Get Golf Ready.  None of these things really work, they're just this year's buzz phrases, soon to be forgotten when the next buzz-phrase is coined at the next PGA Merchandise Show.
Where am I going with this?  The PGA Show is coming up and it is a new year.  Soon we will be hearing the next buzz words and phrases.  Here are a few of the worst golf marketing phrases and slogans for 2015, keeping boobs, ass, and dumb ways of "growing the game" in mind.
Foreplay
Like the play on words?  Fore-play.  Such genius!  We have golf.  We have sex.  Both tied into a nice little pun.  Perfect for the golf magazines, also known as tittie mags.
Get Boob Ready
With the massive amount of boobs posted by Golf Magazine, Golf Digest, and Trash9Network (also known as Back9Network), plus the "Get Golf Ready" initiative last year (or was it the year before?), how great is this?
Get Boob Ready!  Pure class.
Boob Golf
Foot Golf is a dumb game where soccer players piss off golfers, kicking a soccer ball into a giant hole on the course and tearing up the greens with their spiked shoes.  Forget Foot Golf.  Boobs are so much more fun.  This year's initiative should be "Boob Golf."  Big breasted WAGS ("WAGS" is a term used by the golf magazines meaning "wives and girlfriends") use their boobs to knock balls into holes.  Boob Golf is a hole in one!
Foot Hack Grow Boobs 3.0
A combination of boobs, Foot Golf, and Golf 2.0 for 2015 is "Foot Hack Grow Boobs 3.0."  This is pure golf genius.  The golf industry is saved!
WAGOLF
The popularity of "hot wives and girlfriends" of millionaire PGA Tour players seems to be singlehandedly keeping golf magazines and websites afloat.  The hot wives and girlfriends are so popular, I think their male spouses should be benched and we should see them play Boob Golf, or Foreplay, or Foot Hack Gro Boobs, all of course in G-Strings, bikinis, and yoga pants.  We could call it WAGOLF.  Brilliant eh?
Time Fore 69
Golf Digest (or someone else, can't really remember) came out with the "Time for Nine" buzz-phrase.  Let's sex that up a bit, add some hot tour wives and girlfriends, and call it "Time Fore 69."  Get it?  In stead of "for" the word is "fore."  Simply brilliant!
We Are Boobs
The "WE ARE GOLF" slogan was announced as an industry initiative for "changing perceptions" and "overcoming biases."
What perceptions or biases are they talking about? Who cares. The We Are Boobs industry initiative is much better. After all, it's not about golf, it's about the boobs of hot tour wives, girlfriends, and any slut we can find and take a picture of with a driver in her hands!
Grow Boobs
The two most important subjects in golf media for 2014 were boobs and growing golf.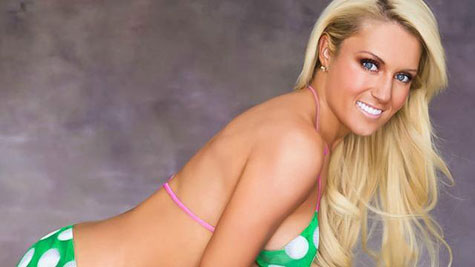 Why not combine the two?  Grow Boobs!  Splendid.
Incomplete List
This list explores just a fraction of the possible slogans for the golf world and golf media in 2015.  Have your own ideas?  Comment them in via the comments below or on any of the Hooked On Golf Blog social networks.  Get creative!  You might save golf.