Written by:
Tony Korologos
|
Date:
Tuesday, December 16th, 2014
Categories:
Boneheads
•
Golf
•
Golf Books
•
Reviews
---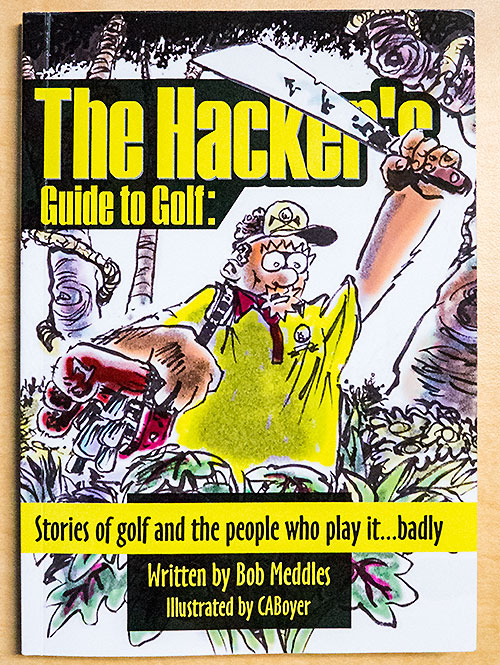 Bob Meddles's treatment of sandbaggers is to strip them naked, bind their hands and feet with duct tape, and toss them in the lake behind #13 green where crawdads can feast on their flesh until the end of time.  In my opinion this punishment for sandbaggers, or CHEATERS as I prefer to call them, is a much too lenient.  That said, I've had a hell of a fun time glued to Bob's book, The Hacker's Guide to Golf: Stories of Golf and the People Who Play it…Badly.
The Hacker's Guide to Golf is a 127 page laugh-fest, illustrated by CABoyer.  Inside the book are all the things a hacker needs to know about the game, golf etiquette, golf equipment, drinking, cheating, rules.  The book even covers the biggest mistake a married man can make, trying to teach his wife how to golf. "Sorry honey, I'm not laughing at you…. please put the club down Elin…"
Reading Bob's book is like reading an autobiography.  As the book says, my swing feels right when I'm doing anything BUT what my instructor tells me to do.  For the first time I've found a book which perfectly describes my ultimate nightmare, a charity golf scramble.  As a 1-handicap I'm always getting invited to these things and they instantly ruin my game.  The last one I played in I was paired up with a (nice) lady who had never hit a golf ball in her life, and two 80 year old men.  I was the anchor.  If I was a 36 handicap I still would have been the anchor.  We only missed first place by about 50 shots.  Yeah the winners shot a 43, for 18 holes (par 72).
Conclusion
Well played Bob.  Hats off to you.  Nailed it.  Someone finally wrote a book about golf which is accurate.  Yes, under no circumstances will the practice putting green bear any resemblance to the greens on the actual course.