Written by:
Tony Korologos
|
Date:
Wednesday, November 5th, 2014
Categories:
Golf For Women
•
Golf Life
•
Golf Lifestyle
•
HOG World Tour
•
Reviews
•
Travel
Tags:
Detroit
•
Golf Travel
•
Michigan
•
Michigan Golf
•
Travel
---
This past summer the Hooked On Golf Blog World Tour was in fabulous Michigan for some amazing golf.  Michigan has become a golf home away from home.  The courses there are fantastic.  I'd much rather play there than Florida or Arizona, though there are some great choices there as well.  I lean toward more elevation change, more interesting terrain, and love the trees.
For this past summer's Michigan golf trip, the temporary world headquarters for the HWT was the MGM Grand in Detroit.  I know what you're thinking.  "Detroit?!?"
I've not spent any time in Detroit until this year.  It is certainly an area which has seen better days, but there are still great reasons to visit, top notch lodging, and dining to be had, like at the MGM Detroit.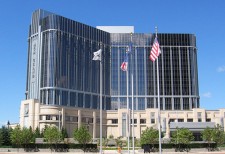 MGM Grand Detroit Overview
MGM Grand Detroit is an Art Deco style design featuring 401 rooms/suites.  This luxury resort opened in 2007 and is one of a small number of casinos in the Detroit metro area.
The gaming space is very large, clocking in at 100,000 square feet.  All of the possible gambling games one might want to participate in are there, including 4,000 machines and almost 100 table games.  Having been a very heavy gambler back in the day, it was quite something for me to spend 4-5 days there and not even wager a nickel.
Location
The hotel/casino is located in the heart of Detroit, walking distance from many downtown attractions and restaurants.   Tiger Stadium, the home of the Major League Baseball's Detroit Tigers, is a short walk from the hotel.  I was able to catch a Detroit Tigers game.  Kansas City came to town and thumped the Tigers.  Despite the loss, Tigers Stadium was really a great baseball stadium and the atmosphere was fantastic.
Rooms/Suites
The rooms/suites at the resort are very spacious and well appointed.  The service level of the rooms is great, with turndown service and a nice robe with slippers prepared every evening.
The shower and bathroom is very large and nicely constructed with slate tile floors and a cool flare to the design.  There's even a screen built into the mirror in the bathroom (see image below).
Amenities
There are many restaurants and bars in the resort, including Wolfgang Puck Cucina and Wolfgang Puck Steak.  I had the pleasure of enjoying both and they're as good as you've heard.
Also located inside the resort is a great sports bar called TAP, which is packed on a nightly basis.  TAP serves great food, stiff drinks, and provides viewing of dozens of sporting events via countless screens.
The resort is home to large 30,000 square foot meeting/event space as well as multiple lounges and entertainment venues.
Finally for those like me who like to relax, there's an on-site spa, pool, fitness area, steam rooms, and private jacuzzis.
Conclusion
MGM Grand Detroit is an upscale, high quality, clean, classy, safe hotel in the heart of Detroit.  Whether in the area for business or some of the great golf in Michigan, MGM Grand Detroit is a great choice for accommodations.
Related Links
University of Michigan Golf Course Review