Written by:
Tony Korologos
|
Date:
Monday, November 3rd, 2014
Categories:
Miscellaneous
•
Site News
---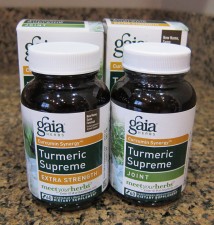 I make a killer lemon-onion rice which I call a Greek style, but I use the Indian spice turmeric to add some unique flavor and color to it. That Greek/Indian rice is so good I make it about once per week.
What is turmeric?
(Wikipedia) Turmeric is a rhizomatous herbaceous perennial plant of the ginger family, Zingiberaceae. It is native in southeast India, and needs temperatures between 20 °C and 30 °C and a considerable amount of annual rainfall to thrive.
Naturally I was intrigued when Gaia Herbs sent in some turmeric supplements which are supposed to help with joint issues and stiffness. I have plenty of that, since I'm no spring chicken.  I've been taking the joint supreme and will do some testing to see if the supplements help with stiffness on the course, and if my Greek-Indian rice does as well.
Stay tuned.