Written by:
Tony Korologos
|
Date:
Tuesday, October 28th, 2014
Categories:
Golf Life
•
Life
---
Two years ago today my life was greatly changed with the birth of baby Seve Anthony (first photo). The last two years have been quite sleep deprived and surely a test for myself and the lovely bride. Seve is growing fast. He has great sense of humor and is fun to play with. He's formulating multiple word sentences and loves to say "well hi dad!"
Yes, the name Seve is inspired by golf legend Seve Ballesteros.
On a daily basis this great little boy blows my mind and melts my heart. I enjoy rediscovering life's simple things with him.  He enjoys digging in the dirt, throwing rocks in streams, pushing toy cars around, building with building blocks, walking around the neighborhood.  Seve loves mechanical things which work together like hinges, doors, drawers, buttons, wheels. He studies them intensely to see how they work. Perhaps a mechanical engineer in the making.
From the moment he awakes (unfortunately no later than 6 a.m.) he is full of energy and wants to explore the neighborhood, dragging mom and myself around in the wee hours to visit his spots and say hello to the neighbor's pets. He will grab my hand and take me to whatever he's doing so that I can participate with him.  If I'm sitting or laying, he will try to lift me up!  Sev's energy level is constant and high, except during nap time and once he finally falls asleep for the night.
Without my influence, he has picked up some golf clubs and whacks a ball around the house.  I may adopt his pre-shot routine, circling the ball a time or two before hitting it.  Check it out:
Somehow (yes, yes I know) he loves football, and loves tossing a football around the house, the backyard, and at Utah Utes football tailgating.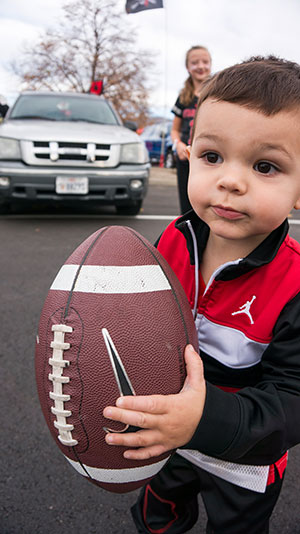 Seve is a bright light in my world and brings happiness to everyone he comes in contact with.  I look forward to watching this little guy grow, and to experiencing all that life has to offer him.  I hope to be a great example for him, as my father was (and still is) to me.
Happy birthday son!