Written by:
Tony Korologos
|
Date:
Thursday, October 16th, 2014
Categories:
Golf Accessories
•
Golf Gear
Tags:
GolfBuddy
---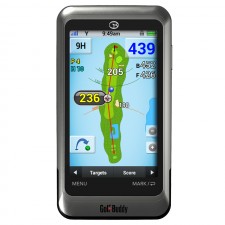 I'm excited to post that a new GolfBuddy PT4 golf GPS range finder has been submitted for review.  This is a very fine looking golf GPS, featuring a four inch color LCD touchscreen which shows all sorts of great and useful information to the golfer.
As much as I hate to use stock photos for my product articles, I had to this time.  It is difficult to photograph the LCD screen without a bunch of aliasing lines which don't look great.  So the featured photo to the right is courtesy of GolfBuddy.
Here is a feature list for the PT4:
+ 4" LCD screen with high resolution
+ New user interface with capacitive touch control
+ Slim body design
+ Water resistant
+ Dynamic Green View
+ Preloaded with 37,000+ global courses
+ Automatic course and hole recognition
+ Easy scoring feature
+ Score tracking module (up to 4 players)
+ Statistics Analysis Module
+ Precise distance to any target
+ Customizable targets
+ Shot distance measurement
+ Moveable Pin Placement
+ Replaceable Battery
+ 8 hour battery life
+ 50 channel satellite reception
I'll be putting this baby into play for the first round of testing in 2-3 days.  As most of you HOG patrons know, I test quite a bit before writing a full review.  Stay tuned.
Here's a shot from my house last night.  As you can see, HOG World Headquarters 3999 yards from the center of the first green at River Oaks.
Related Links
GolfBuddy VS4 Mini Talking Golf GPS Review