Written by:
Tony Korologos
|
Date:
Monday, October 13th, 2014
Categories:
Golf Apparel
•
Golf Gear
•
Golf Lifestyle
•
Reviews
---
If there's one country that should know how to deal with the cold, it is Scotland.  You could trust that an apparel company established in Scotland would have unparalleled expertise in warmth, especially a company which has been around since about 20 years before St. Andrews' New Course (1895) and the Jubilee Course (1897).  Lyle & Scott would be that company.
Today's featured item from Lyle & Scott is their Crew Neck Pullover "Jumper."  Here in the USA we could call the same thing a sweater.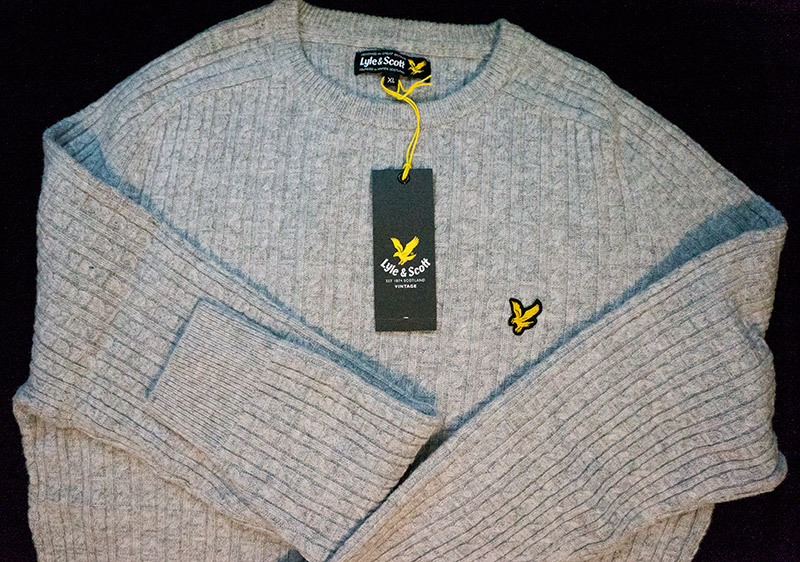 This jumper, ahem, features a cable knit. Cable knit is a pattern woven into the fabric which has a look like many cables or ropes aligned vertically. The jumper is made from 80% lambswool and 20% nylon. The cuffs on the sleeves and the waistband are a ribbed knit.
Style
This jumper is extremely sharp looking. The fit for me, a USA XL, is perfect, unlike many "euro" sized apparel items. Not too tight, but not like wearing a weather balloon.
Comfort
I dread trying on wool. I can almost feel the itching before I even put on the garment. Not the case with this beauty. The lamb's wool/nylon combo is not abrasive or itchy at all.
On The Course
We've had an indian summer here in northern Utah. Fall has been warm but finally the temperatures have been dropping to the point of needing to wear a sweater…I mean jumper. During the round yesterday the cold late in the day gave me quite a chill but as soon as I put on the Crew Neck Pullover the cold was gone and I felt nice and toasty.
Despite having a nice thick wool insulation layer, I was still able to move freely and the garment did not impede the swing or my comfort level at all.
Conclusion
I have a new favorite jumper and sweater all in one. The Crew Neck Pullover is perfectly comfortable, plush, and fits naturally.
This is not a sweater for the faint of wallet.  Pricing on this jumper is around $175 USD.  That said, this one is worth the price of admission and will surely pay itself off in the form of many warm and comfortable years of enjoyment.
Where to Buy
No matter what side of the pond you are on, you can pick up Lyle and Scott at Mainline Menswear. They deliver to the United Kingdom, Europe, and the USA.