Written by:
Tony Korologos
|
Date:
Thursday, September 18th, 2014
Categories:
Golf Accessories
•
Golf Gear
•
Reviews
Tags:
Golf Accessories
•
Golf Gadgets
---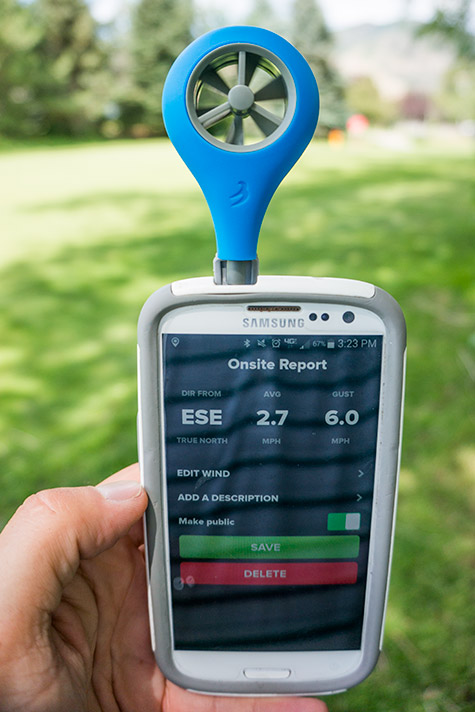 I wish I had the Weather Flow Wind Meter unit the last time I golfed in Scotland.  Those numbers would have been crazy.  The Weather Flow Wind Meter is a very small portable turbine which plugs into your smartphone or tablet (iPhone, iPad, Android) and via several different free applications can show you all sorts of data regarding the wind in your location.
Data
The Wind Meter shows some great data which can be very useful on the golf course or doing other outdoor activities.  I use the unit for golf, and for checking current wind conditions when flying my remote control aerial photo/video helicopters.   Other applications might include flying, sailing, fishing, windsurfing, and more.
Here are the primary data values shown:
Average wind speed
Max wind gusts
Wind direction
The data can then be processed by the user, or even shared with other users.
The unit can read in meters/second, miles/hour, knots, kilometers/hour, & beaufort scale.
On The Course
This device is great for information gathering before a stipulated round or tournament round.  It is not legal to use such a device during said rounds.   Knowing wind speed and one's one game allows the golfer to compensate and choose the proper club when hitting against or with the wind.
After feeling the winds and seeing the actual numbers, a golfer can get a much better idea of wind speed without having to use the unit all the time, therefore having a better idea how to play shots in stipulated rounds or tournaments.
Conclusion
The Weather Flow Wind Meter is a fun and useful $34.95 investment which can help golfers or those who need to know wind conditions in order to perform their best, and be armed with the most complete information they can.