Written by:
Tony Korologos
|
Date:
Tuesday, August 26th, 2014
Categories:
Boneheads
•
Golf Gear
Tags:
FootGolf
---
As recent press releases have touted, FootGolf is growing rapidly.  FootGolf is a game where soccer balls are kicked into 21 inch holes on golf courses.  A Hooked On Golf Blog patron who asked to remain anonymous sent in this photo of what appears to be the the first shoe TaylorMade/adidas will bring into the emerging Foot Golf market. The photo appears to be authentic, since it has the "WRX" watermarking on it.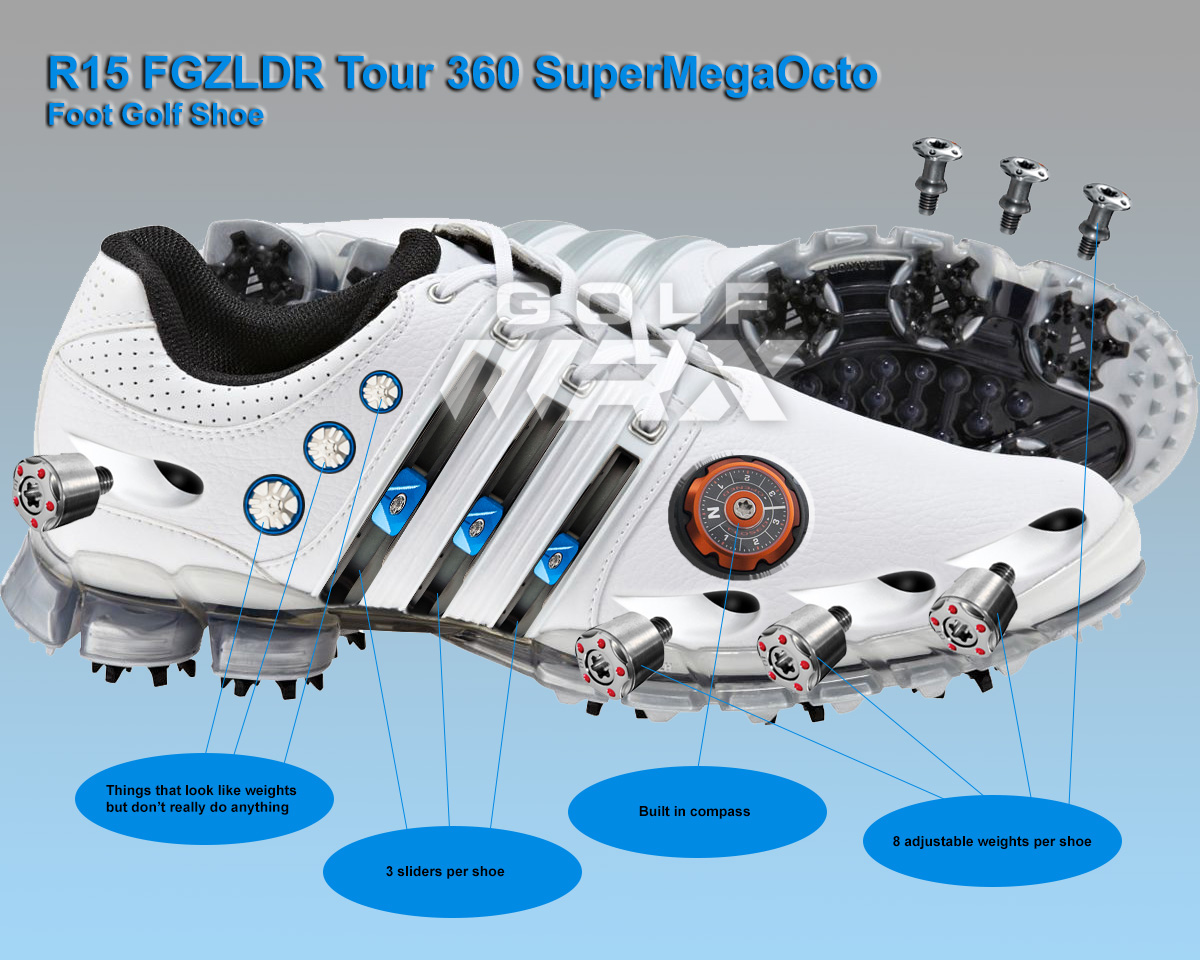 The revolutionary FootGolf shoe is the "R15 FGZLDR Tour 360 SuperMegaOcto" and the anonymous source tells HOG availability will be in the future.
R15 FGZLDR Tour 360 SuperMegaOcto Features:
Fully adjustable from 180 degrees open to 180 degrees closed (Tour 360)
Waterproof all-leather upper
Built in compass
Hybrid street spikes or standard soft spikes
Low center of gravity which helps launch the soccer ball higher and easier, with less spin
Highest MOI available produces higher soccer ball launch angle and massive distance
Eight individual movable weights per shoe
Three sliders per shoe
Retail pricing on the regular model will be $199.  The forthcoming R15 FGZLDR Tour 360 SuperMegaOcto "TP" model will feature all the same options as above and run $499.  For those who are on a limited budget there's good news.  After six months the pricing for these FootGolf shoes will drop to $99 and $199 (TP model) when the next model, the R15 FGZLDR Tour 360 SuperMegaOcto Stage Duo is released.
Custom fitting is recommended.