Written by:
Tony Korologos
|
Date:
Monday, August 25th, 2014
Categories:
Golf
•
Hackers
•
Miscellaneous
---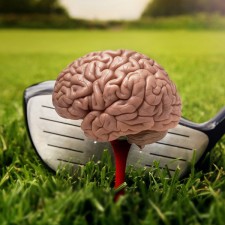 Alternate post title: "How to turn a 64 into a 74"
I've been fighting tennis elbow now for a new weeks.  I've had to chance some of my swing technique to avoid pain.  One change is a more hands-oriented swing which is apparently giving me more clubhead speed at impact.  Another change is teeing the ball very low with the driver.  It hurts less when the ball impacts the driver face lower.  These changes have added power to my swing, strangely.  I "caught" a pitching wedge flush last week which traveled 168 yards.  Unfortunately, I had intended to hit it 140 yards.  With this extra power I'm in position to make more birdies, when the swing isn't wild.  The bad swings go left.  Far left.
Yesterday's round was quite crazy.  My first five holes of the day: eagle, birdie, par, birdie, birdie.  At that point an opponent said "do you realized you're five-under-par after five holes?"  Yeah thanks pal.  That's a sure way of insuring I'll shoot five over in the next 10 seconds, which I did.  I finished the front even par.  Even on the front would be satisfying on most days, but not when you were five-under after five.  Gag.
On the back nine there were a couple of other notable moments.  I punched a 7-iron from the right rough from 175, under an overhanging tree, to a back pin.  The shot ended up about six inches from the hole.  Birdie.  A couple of holes later I chipped in for eagle on the par-5 16th.
Two eagles in a round, along with four birdies.  Unfortunately I had two doubles and six bogeys as well, resulting in a 74.  Four pars on the day.  Quite nuts.  Thrilling one moment and more irritating than listening to Justin Bieber the next.
I see a doctor later today for my elbow.  Playing in pain sucks.  But I've learned that there is more power in my swing to be tapped into by some changes in technique.  Hope to keep that but reduce the wild shots in the future.  Maybe I'll find a way to not choke away all those birdies and eagles and shot a round in the mid-60's.