Written by:
Tony Korologos
|
Date:
Wednesday, May 28th, 2014
Categories:
Golf Accessories
•
Golf Gear
•
Reviews
Tags:
golf head cover
---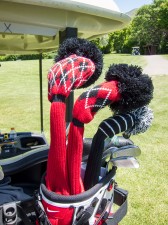 Father's Day alert…
For a few rounds I've been testing the Just4Golf.com Knitted Headcovers.  Normally I'm not a fan of knitted head covers because the ones I've tried in the past lose their elasticity and become shabby and saggy, not staying on the club.  These have stayed in good condition however, and are like new after some heavy testing.
Models
Just4Golf's knitted covers are sized from hybrids to fairways to drivers.  There are also blade and mallet putter models.  The putter covers come in rubber/plastic materials, but match the knitted versions.
Styles/Colors
Just4Golf makes many styles and colors in their knitted head cover line.  The styles pictured I really like.  They're red and black (much better than blue… a college football thing).  The pattern is a nice Scottish style, reminding me of my 2nd home in St. Andrews.  There are 10 "collections" of styles.  Within each collection are multiple variations.  There are 100's of possibilities.
On The Course
These are fun head covers and they look sharp.  The covers are easy to put on and take off.  Except for the ball on top (see critiques), these covers are thin, light, and not bulky; great for walking golfers.
One great benefit to having these covers on my hybrid, 3-wood, and driver, is that jerks who steal clubs have no idea what is inside.  Those three clubs alone in my set probably top $1,000.
Critiques
Often with knitted covers the "ball" on the top of the cover can be too big and bulky.  Over time the cover begins to sag and not hold the weight of the ball.  I'm not to that point yet, and hoping they stay as new.  I could do without the big ball.  It just makes things a little tough to deal with when getting clubs out, putting them in the trunk, or traveling.  Perhaps a small ball would be better, or no ball at all.
Pricing
Prices are roughly between $17-$24 depending on the model and style.
Conclusion
The Just4Golf knitted head covers are a neat way of going old school.  They're stylish, durable, and fun to use on the course.  These head covers would make great, and affordable Father's Day golf gifts.