Written by:
Tony Korologos
|
Date:
Friday, May 16th, 2014
Categories:
Cigars
•
Golf Accessories
•
Golf Gear
•
Golf Life
•
Golf Lifestyle
•
Miscellaneous
•
Reviews
---
I've been working very hard on this review.  I've had many deep research sessions.  In those sessions I've tested every configuration and environment possible to bring you, my loyal patrons, an in-depth and educational review of the highest quality.  It has been tough work.  Despite how hard the research has been it was an enjoyable and rewarding experience doing it.
Today's review subject is the Perfecto Cigar Holder.  This accessory crosses over between the golf and lifestyle worlds.  This cigar holder has two core features which make it great, on or off the golf course.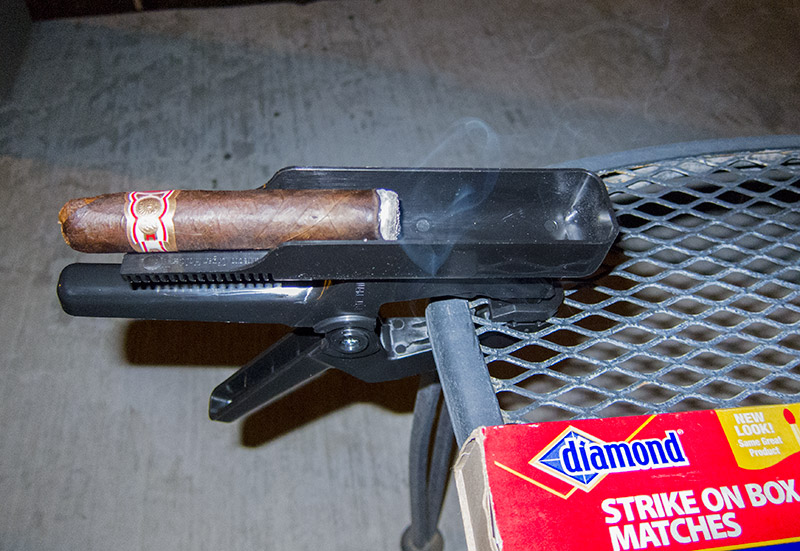 Clamp
As you can see in the image above, the Perfecto Cigar Holder features a clamp which allows the unit to be mounted to many random items like golf carts, tables, or perhaps even your opponent's putter.
Holder/Ash Tray
The holder for the cigar is capable of holding cigars of many sizes.  There is an ash collection area which keeps ashes from falling and making a mess.
Critiques
The clamp is great, but one missing feature I found myself wanting on the golf course was the ability to rotate the clamp and holder.  I really wanted to clamp the unit on the pole for the roof of the golf cart.  In that case, rotating the unit 90 degrees would have been the ticket.  So for future development, I'd say the ability to rotate the clamp would be a great addition.
Conclusion
The Perfecto Cigar Holder allows the user to keep the cigar mounted, close by, and catches ashes.   This would make a great Father's Day gift for the cigar smoker (golfer or not) on your list.
Though this article marks the completion of my official review process of the Perfecto Cigar Holder, further personal research and testing will continue indefinitely.