Written by:
Tony Korologos
|
Date:
Tuesday, May 13th, 2014
Categories:
Golf Apparel
•
Golf Gear
•
Site News
---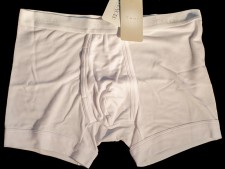 I'll do anything to shave strokes off my game. The lampshade/thong thing didn't turn out well, but at least I tried. Perhaps performance underwear can shave strokes off my game? I'm about to find out today at 3PM when I tee it up in the big money game.
Today's underwear apparel script is the Tani Air Fitness Boxer Brief. At $45 a pair, this is quite an investment, but hey, they're 1/10 the cost of a new driver which will be obsolete tomorrow. I don't think underwear becomes obsolete after a day. And if I win my $2.00 nassau, that $45 will be whittled down to $43. Much more affordable.
So far so good at the office.  The Tanis are comfy, and I'm normally a straight boxer guy.  I do like the feel on the legs.  The performance package may take some getting used to though.
A full report will follow, along with a full review of the Tani Air Fitness Boxer Brief.  A selfie in these may be forthcoming, if I can work in 129,930 crunches between now and my full review.