Written by:
Tony Korologos
|
Date:
Wednesday, April 30th, 2014
Categories:
Golf
•
Hackers
---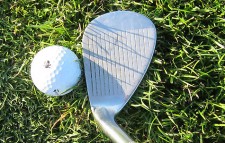 Hulk smash.
The past round or two I've lost my cool quite badly.  This is not normal for me, as I'm typically calm, quiet, and controlled on the course.  It is early in the season here in northern Utah and every year at this time I'm fighting to get my game back due to 4-6 months layoff from playing due to snow.  I have some raw golf talents, like the ability to putt well, but other parts of the game do not come naturally at all to me.  Primarily I'm talking about short game.  After time off, even a couple of weeks, the short game can get pretty bad.  After 4-6 months?  Its like the short game of a 30 handicapper, not the 2-handi that I supposedly am.
Yesterday's frustration had me wanting to literally smash every club in the bag, shut down the blog, sell all my golf equipment on ebay, and quit the damn game.  On two occasions I literally thought about what I could do instead of golf, for all the hours I spend practicing and playing.  Alternatives which sounded more fun than screwing up simple chip shots and turning pars into bogeys and doubles included plucking my fingernails out with pliers, jabbing ice picks into my eyeballs, and listening to Justin Bieber.
I'm having a hard time staying cool and letting time, practice, and many rounds get my game back into shape.  Logically I know I should improve over the next month or two as the weather and conditions get better and I play/practice more.  Still, right now I'm finding it hard to enjoy shooting rounds that are 15 shots higher than my handicap.
I've got a small road trip coming up this weekend to watch my cousin compete in an Iron Man down in St. George.  The day before and the day after I have all to myself in Las Vegas and Mesquite.  Friday I'm playing golf at Rhodes Ranch in Vegas, and will visit my golf pro friend Jeff Bricker there.  I may be able to squeeze a lesson out of him but at the least I should have many hours in the afternoon to work hard on the short game.  I'm also visiting my friend and pro at the Oasis Golf Club in Mesquite, Adam Schwartz.  Might try to squeeze a lesson from him as well, or work on the short game at his great facility.
The short game frustration comes as certain other parts of the game seem to be okay at this early stage of the season.  My driver contact and distance seems to be better than last year already and thanks to a new hybrid I'm confident on long shots of 210-240 yards.  But that may be adding to the frustration.  Better ball striking off the tee, but worse scores because I can't get the ball on the green quick enough to let my decent putting do its job.
On second thought, maybe I should listen to Justin Bieber.