Written by:
Tony Korologos
|
Date:
Monday, April 14th, 2014
Categories:
European Tour
•
PGA Tour
•
Pro Golf
•
Rory McIlory
•
The Masters
---
The Masters never disappoints. Never.
This year's Masters had quite a different feel to it, not because Tiger Woods was missing or because the 17th was missing the Eisenhower pine. The conditions seemed ripe for scoring, but the greens were so fantastically speedy and difficult it made low numbers and low scores tough to come by. The winning score by Bubba Watson, was -8.
Player Comments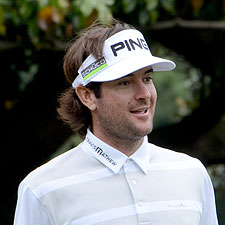 Bubba Watson
One might have been able to say that Bubba Watson's first Masters win was fluke, luck, or somesuch thing. That same person might argue we would not hear much from him again, or that he'd never win another major. Now that Mr. Watson (as Jordan Spieth called him) has two green jackets, one must call that a trend and not a fluke.
Bubba is obviously a freak player with perhaps the highest level of raw golf talent I've seen squeezed into one human body. Some guys are long. I know plenty of locals who can hit it as far or farther than Bubba does. Some guys (like me) can only putt. Some guys can only curve the ball, or can only curve it one way. Some guys can only perform well in the short game area. Bubba has it all: length, ability to curve the ball any direction, short game touch, creativity, great putting. He has the whole package. It doesn't look all that great during the swing, but the results are indisputable. Perhaps the fact that he doesn't have a swing coach and had little to no formal training, is what makes him able to even consider trying shots the average tour pro would not.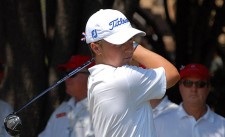 Jordan Spieth
Choo choo! Join me on the Jordan Spieth bandwagon! How do you not like a 20 year old kid who nearly wins the Masters? He had a two-stroke lead with 11 holes to play. The hype is not hype. This kid is real and he will do some damage to the tour in the wins and the majors columns. Book it.
This week we a great learning experience for Spieth.
Jonas Blixt
I'll admit not knowing much about Jonas Blixt, until this week. I'm a fan now. He will be a force on tour. Book it.
Matt Kuchar
On his 3rd hole Matt Kuchar shared the lead with Spieth. I started imagining him in a green jacket and I liked the look. Of all the players this past week, Kuchar impressed me most with his short game. His putting though, especially on the 4th hole where he four putted, had some issues. The four-putt was too much to overcome.
Miguel Angel Jimenez
Guess who shot the lowest round of the tournament, by TWO shots? Yup, the most interesting golfer in the world, Miguel Angel Jimenez. Miguel was close to the lead for most the tournament and boy what a cool story that would have been if he managed to win at 50 years old.
Some day I hope to sit down with Miguel and have a glass of red wine and smoke a cigar with him. That would be one of life's coolest experiences.
And how about those aviator sunglasses?  No Oakley style wrap-arounds for this guy.
Rickie Fowler
I gained a little more respect for Rickie Fowler this week. He showed quite a bit of grit and ended up tied for 5th on a course which I didn't think really suited his game. And I was glad he didn't go full-on traffic cone orange in the final round. The plaid pants were great.
Someone kill me now.  I just commented on a player's apparel selection.  No really…kill me.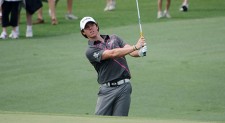 Rory McIlory
Rory McIlory was the favorite coming into the week. He barely made the cut, on the number. We haven't seen his game at its best for quite a while now, back to around 2012 and the PGA Championship perhaps.
McIlory was "first out" on Saturday morning, not where a player wants to be. First out means last on the leaderboard. Since he was essentially a single as the field was whiddled down to an odd number, Rory had to play with a marker. The marker was a member of Augusta National Golf Club. McIlroy himself was humored, as was I, that the marker beat him by one shot with a 70.
When his game is at its best there is nobody in the world who can beat McIlory.  When his game is not at its best, amateurs can beat him apparently.
Fred Couples
Fred Couples had himself in contention most of the week, keeping the fans very happy. It seems to be a yearly thing now.  Freddy's length, even in his mid 50's, is amazing. I don't expect his back or his body to last all 72 holes, and he did end up out of the running when he knocked his 2nd shot in the water on the par-4 11th in the final round.
Cut
What an amazing group of players this year who missed the cut:
Sergio Garcia, Luke Donald, Jason Dufner, Graeme McDowell, Angel Cabrera, Keegan Bradley, Dustin Johnson.
None of those missed cuts were as surprising as Phil Mickelson. Phil struggled with rounds of 76 and 73 Thursday and Friday. He mentioned that he might stay and watch the action as his "punishment."  I'd like to be punished by having to watch the Masters on Saturday and Sunday too.  How can we make that happen?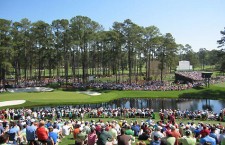 The Course
Knowing Augusta like I do, having been there several times, makes watching from the comfort of the couch much more entertaining. It is as beautiful as everyone says, if not more. It is more hilly than anyone might imagine, and every blade of grass is perfectly cut. There is not a weed in 360 acres.
Watching the best players in the world deal with the amazing greens at Augusta National was a four day long treat. I gained great respect for the short games of the likes of Jonas Blixt, Bubba Watson, and especially Matt Kuchar. Kuchar hit a shot from the back of the par-5 15th on Saturday which was truly amazing. Though I'm a 2-handicap, I think I could have thrown a bucket of balls down back there and never gotten a shot that close.
Conclusion
The final round was a bit different, most of the excitement coming on the front nine this year, as opposed to the back nine. "The Masters doesn't start until the FRONT nine on Sunday," I suppose.
This tournament was free of idiots yelling "mashed potatoes" and free of the Back9Networks of the world posting their TMZ style pictures of hot tour wives.  Now back to our regularly scheduled trash.
One positive, ending thought: Only 360 days until the 2015 Masters.
Can't wait.