Written by:
Tony Korologos
|
Date:
Friday, April 11th, 2014
Categories:
PGA Tour
•
Pro Golf
•
Rory McIlory
•
The Masters
•
Tiger Woods
---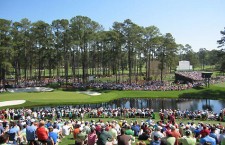 Despite the Masters missing Tiger Woods, and the Eisenhower Pine (lost in an ice storm this past winter), the first round of the tournament was quite entertaining.  There were quite a few surprises, and some players hovering near the top like Adam Scott who were not surprises.
Agua-Balls
Perhaps the biggest surprise of the first round was all of the shots which ended up in some kind of water hazard, like the one short of the par-3 12th or the water short of the par-5 15th.  Adam Scott found the water on the par-3 12th as many players did.  It was tough watching Ben Crenshaw on 12.  It looked like he put half his bag in the water, ending up with a triple-bogey six.  Phil Mickelson and Dustin Johnson found the water on the par-5 15th with little tiny wedges in their hands for their 3rd shots.
Bad Starts
Some top players had less than expected opening rounds.  Luke Donald shot a 77, or so he thought. He hit a bunker shot which came to rest in the same bunker.  Later on he was informed that he would incur a 2-stroke penalty because he touched the sand before the 2nd shot.  He admitted it was a mistake and took his medicine politely.  The 77 turned into a 79.
Jason Dufner limped to an opening round 80.  He should have the game for Augusta, but it may take a few years for him to become comfortable there.  The lowlight of his round was the nine he scored on the par-5 13th.  If a player of his level scores a nine on a hole, I guess that means I would score a 15.
Other bad starts include former Masters champions Trevor Immelman (79), Zach Johnson (78), Angel Cabrera (78).  They're going to have to go mega-low Friday to make the cut.
Ian Poulter, Phil Mickelson, and Justin Rose are all big guns who struggled to an opening round +4 76.  Not out of it, but starting Friday eight shots back.  They'll need a solid round two in order to make their first priority happen, making the cut.
Looking Good
2011 FedEx Cup champion Bill Haas is in solo 1st place with a -4 round of 68.  Solid.  This is the first time Haas has led a major championship at any point.  The cynic in me says that he will not remain atop the leader board.  Seldom to the Thursday leaders  retain that position.
Adam Scott's game is built for Augusta National Golf Club.   He's one shot back in 2nd place, tied with another player who seems to find the course fitting for his game, Louis Oosthuizen.  Also tied for 2nd is Bubba Watson.  Bubba certainly has the power and short game creativity for this course.
Flashes of Brilliance
Jonas Blixt came out mega hot and shot to the top of the leader board early Thursday.  Of course Puma's social networks were going nuts.  He settled down and ended  in a solid position, tied for fifth at -2 70.
What would a Masters be without Fred Couples hovering around the leader board?  It seems that every year we see Freddy at or near the lead on the first day or two, then the back and the age catch up to him toward the end of the weekend.
I was the most excited when for a few minutes the player atop the leader board was the most interesting man in golf, Miguel Angel Jimenez.  He had it to -4 at one point, finishing T12 at -1.
Solid
Strong rounds include rookie Jordan Spieth, Rory McIlory, and Rickie Fowler.  All at -1.  One shot ahead at -2 is a solid group including Blixt, K.J. Choi, Brandt Snedeker, and Gary Woodland.
ESPN Coverage
I do have to give credit where credit is due.  I've been quite critical of ESPN and their golf coverage over the years.  But the broadcast yesterday was a birdie.  Hats off to their production team for what must have been painful for them, not showing excessive Tiger highlights.  In fact, I'm not sure they showed any at all.
Well played ESPN  Well played.
Friday
Friday will be great to watch.  Some players who look to be in good position will falter and miss the cut.  Some players whose first rounds were sketchy will pull a solid 2nd round together to make the cut.
And who will be on top of the leader board after day two?
Can't wait to watch.