Written by:
Tony Korologos
|
Date:
Thursday, April 3rd, 2014
Categories:
Golf Apparel
•
Golf Gear
•
Reviews
---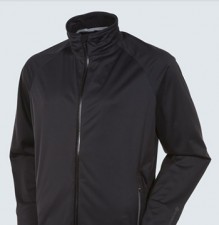 Sunice is a Canadian company which has been making performance golf and winter outerwear since 1976. Those many decades of experience in conditions from the 18th green to 18 degrees below zero culminate in a fantastic jacket called the Bollon, part of their "Tornado" series. I think they use the name Tornado because the jacket is so comfortable and waterproof, you'd be fine in a tornado. Let us take a closer look at this great jacket.
Construction/Technology
The Tornado Collection features "FlexVent" fabric. This fabric is proprietary to Sunice and combines lightweight with performance in a waterproof, breathable package.
Along with the waterproof fabric, guaranteed for FOUR years, the zippers are also waterproof. Pull-strings in the pockets allow the golfer to tighten the garment around the lower portion of the body to keep drafts and moisture from entering on the bottom. Photo below:
The sleeves feature a velcro tightening strap, as well as an elastic inner sleeve. This combination keeps the cold, wind, and weather from entering the sleeves.
Looks/Style
The cut of this jacket is very attractive. I particularly like how it accommodates sweaters, sweatshirts and inner layers yet still looks trim.
The lines of the zippers, pockets, and accents are classy and quiet.
On The Course
This past weekend the weather was a perfect test for the Tornado/Bollon. The winds were a solid 20mph, gusting up to 30+. There was some occasional rain to deal with, which due to the wind was falling sideways.
I tightened up the lining near the waist to keep the wind from creeping up the bottom of the jacket. A side benefit to that tightening was keeping the front of the jacket out of the way of my golf swing and especially my putting stroke. I use a short putter and bend over quite far. Sometimes bulky outerwear can snag the putter grip or get in the way of the putting stroke. This is not good, especially when you're trying to bury your opponent and collect on a $2.00 nassau. Big pressure. Can't have a garment messing that up.
I also tightened up the sleeves and zipped up the jacket all the way. Despite battening down the hatches I was still comfortable and able to swing freely.
Inside the left pocket I found a surprise. Included with the jacket is a small microfiber towel for cleaning golf balls. It is attached via a small buttoned strap. Very cool and convenient.  Picture:
Bollon Sizes/Colors
The Bollon comes in two colors, black and white. Sizes range from small to XXXL.
Conclusion
Outerwear on the golf course is crucial. It needs to fit, keep you warm, keep out the elements, and most of all not interfere with the golf swing. The Sunice Bollon, part of the Tornado Collection, scores top marks across the board.