Written by:
Tony Korologos
|
Date:
Friday, January 31st, 2014
Categories:
Contests/Giveaways
•
Golf Balls
•
Golf Equipment
•
Golf Gear
Tags:
TaylorMade
---
Don't ever say I don't take care of the HOG patrons!  (Just like the Masters, readers here are "patrons," not readers).  Here's a chance to get your hands on a free golf club from TaylorMade.  As part of their launch of the "SpeedBlade" line, they're giving out, a.k.a. seeding 20,000 6-irons for people to try out.  Obviously they are expecting the golfers who use those 6-irons to be blown away by the club and buy a whole set, and will post about their great experience on their social networks.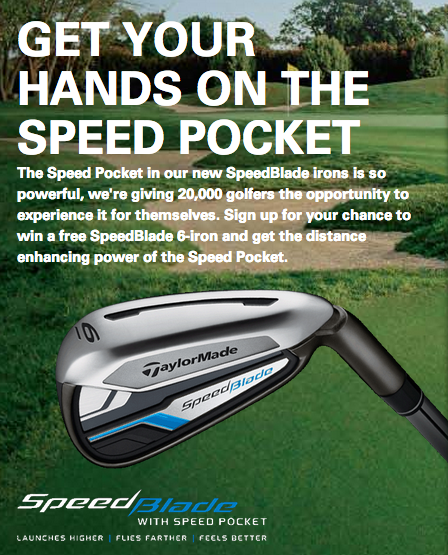 Soon I'll be doing a SpeedBlade fitting myself, getting tested in a TaylorMade Performance Lab and fitted for an optimal set of SpeedBlades.  Then I'll be posting a SpeedBlade review after that.  Stay tuned and have fun with your new 6-iron.
"Enough content already, gimme the link!"
Here's the link: http://pocketeffect.taylormadegolf.com/