Written by:
Tony Korologos
|
Date:
Monday, January 6th, 2014
Categories:
Miscellaneous
•
Site News
---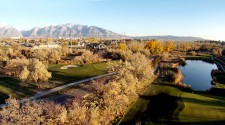 A couple of days ago I posted the 2013 grade for HOG (Hooked On Golf Blog). I tried to take a hard look back at 2013 and analyze what was done well and what was not; what worked and what did not.
Today's post is the first hard look forward at 2014 and perhaps beyond. This is the 9th year HOG has been operating. I was somewhat of a pioneer in the golf blog world nine years ago. I'm looking to make some changes for 2014 which are still in that pioneering spirit. How does one do that with a golf blog that has been around so long and produced content in so many different forms?
First I will be making some changes with regards to blogramming. After the hellish grief I was given by last year's fantasy golf winner, complete with threats of legal action because his free prize didn't arrive soon enough (contact at Nike Golf was on maternity leave), I've decided to bag fantasy golf in 2014. Adios.
Another bag this year is going to be the PGA Merchandise Show, after nearly a decade of blogging from Orlando in January. I'm greatly looking forward to staying home with the wife and my little 14 month old boy as opposed to suffering a week long bout of bloodshot eyes and constipation. There's something about Orlando which my body can't handle. I will miss seeing my golf industry friends very much, and especially golfing with some other good golf blog friends in the Battle of the Golf Blogs. It is a tough sell for me to go to the show as I have to pay all my own expenses like airfare, hotels, cars, etc. It could take months for my blog's ad revenue to make up for that expense. Despite my not being there, the show will go on. The big companies will come out with the longest driver ever, for the 20th year in a row. Small companies and golf inventors will blow their life savings on their booths at their first show for their golf invention, to never be seen again…
Since I'm not doing the PGA Show, I've decided that I'll schedule a phone or web meeting with each company or PR person who wanted to meet me at the show. We will discuss 2014 and how we can work together.
Content wise I want to look at what I'm doing and perhaps work up a new format or some new ideas. I tend to be long winded. This piece is an example. Most studies show that articles of more than 400-600 words are seldom read to the finish. Had you read this article to this point, you would now know this. I should look at tightening up the content.
I also am considering a more structured way of producing the articles. Some of the other writing gigs I produce contain weekly features. Perhaps one or two of those would be good, like "two cent Tuesday," or "thoughtful Thursday." One golf tip per week? Video of the week? Technique of the week? Still in the developmental stages on this. Suggestions welcomed.
Content items I surely intend to continue will be the product reviews, golf travel, and course reviews. Many of these pieces make up the core of HOG. They will continue, perhaps with some tweaks as discussed above regarding format and such.
I receive emails quite often from aspiring golf bloggers/writers who want to contribute to the site. I'll explore this again, though the first two writers I brought on years ago ended up being a nightmare. Both writers were only in it to link back and promote their own websites and products. It was basically golf's version of spam. I had to pull the plug and go back to solo golf blogging.
One content idea I'm considering is doing more interviews. I've done a few, and they have been quite fun.  Perhaps the best one was my interview with actor Robert Duval.  We chatted for a good 45 minutes.  I also interviewed Fred Funk, as well as the "hottest female golfer of 2013″ Blair O'Neal (pictured right).  The priority interviews on my list will be Tiger Woods, Jack Nicklaus, Phil Mickelson, Rory McIlory, and Arnold Palmer. Since I doubt any of those will happen, I'll have to look for the next best… I think I can get the mother-in-law booked right away.
Another thought on reviews is a rating system. I'd love to have a 1-5 star setup for things like design, looks, feel, packaging, website and such.
As ad revenue has dropped because of factors like changes in Google's search algorithm and a few less posts per month, I may scale back the number of ads. I'd love to go back to a pure blog with no ads, but with the expense this blog incurs I'd like to see it at least cover itself.
An easy way to build up traffic includes posting pictures of hot golf ladies like Natalie Gulbis or Anna Rawson in g-strings and all of that. I haven't resorted to that and don't think I will, though working with the images wouldn't be the toughest part of my day. Another way other sites really build traffic is by having "contests" and "giveaways" from golf companies. I haven't done those because I feel I might as was sell my soul to the bogey man. I've always felt that my "great" content (ahem) should be the only draw I need for traffic. Let's face it, there are a couple of sites which pretty much suck, but people go their because they give away free golf equipment. We know who they are.
That being said, golf companies who want to do these contests ask me "why not reward your readers?" When they put it that way it makes it sound a little better, but I still feel "dirty" by resorting to giving away free stuff in exchange for hits or traffic. Then again, my articles and photos are free. What do you think? And don't tell me to do it just because you want free golf gear.
I'll continue to work on the site design and try to make it even more friendly to mobile phones and tablets. That's the future of the internet. Bank on it.
I have a few other golf related websites as well. I created TheGolfSpace.com back in 2006 to be a golf social networking site. It has over 6,000 members, though not many are very active. I'd love to kick that site in the rear end and get it rocking better too. I need to do some soul searching on TGS and find what it can offer that isn't already being offered by the current social networks and other golf sites which have forums. It does offer free golf stats, handicaps, and score tracking. Needs more.
Speaking of social networking, I've been thinking hard about this. The more I've social networked the blog, the less traffic it seems to get! I'll be approaching the social networking a little differently for 2014. Rather than just posting links to blog articles, I'll try to make the HOG Twitter, HOG Facebook, and HOG Google+ their own entities and ways to interact with fans. Some people just like to operate within the confines of their chosen social network(s). Fine. Sure I'll sprinkle in some blog links, but I think from a brand recognition and fan base standpoint HOG needs to be more conversational, social, and information within each social network.
2014 will be an interesting year. I've got some hopeful surprises lined up. I'm looking forward to the next year of golf blogging and trying some new ideas.
I'm also looking forward to improving my damn short game, and this time I mean it…