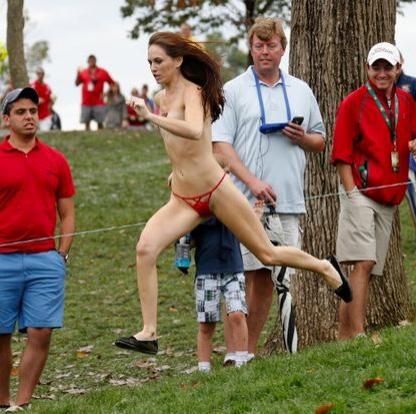 Written by:
Tony Korologos
|
Date:
Sunday, December 1st, 2013
Categories:
Boneheads
•
Golf
•
Golf Media
•
Miscellaneous
•
PGA Tour
•
Pro Golf
•
Rory McIlory
•
Site News
•
Tiger Woods
•
U.S. OPEN
Tags:
Brandal Chamblee
•
Presidents Cup
•
Rory McIlory
•
Tiger Woods
---
Introduction
Each year around Thanksgiving break I post the Hooked On Golf Blog Turkey of the Year awards. The golf turkey of the year awards is top-10 style list of the boneheads of the year in the golf world.
Previous winners include the likes of John Daly (for simply being John Daly), Sergio Garcia (spitting in the cup, watching a video of himself spitting in the cup and then refusing that he spit in the cup), Tiger Woods (cheating on Elin), etc.
This year was an interesting year. There are numerous candidates for the Turkey of the Year. It seems like some players, such as Sergio Garcia, manage to keep themselves on the list year after year.
And now, the Hooked On Golf Blog Turkeys of the Year for 2013. Drumroll please….
Rory McIlory
I admit I jumped on the Rory McIlory bandwagon. After the impressive PGA Championship and U.S. Open wins where he lapped the field, I was very impressed.
Then in the end of 2012 leaks started going out to the public that McIlory was switching primary sponsors from Titleist to Nike. At the time McIlory was still under contract with Titleist. Then after switching to Nike, McIlroy had an awful season with missed cuts, walking off the course and even destroying his own equipment on camera.
Was it the equipment switch? Nike haters would say yes. Hindsight tells us it was likely a combination of the switch plus a whole bunch of legal issues which came about because of his formation of his own management company, dumping his two previous management companies and not properly giving Oakley their first right of refusal on his endorsement deal with them.
Now that most of worst legal stuff is over and Rory has had a year to get used to the gear, there shouldn't be any excuses in 2014.
Sergio Garcia
During THE PLAYERS (always spell "The Players" with all caps, that's what they do) Championship, Tiger Woods and Sergio Garcia were paired together. Yes, predictably the golf media treated us for the billionth time to the ever tiring and nauseating replays of Sergio's most famous moment, when he ran and jumped during the 1999 PGA Championship. I digress.
During the 2nd round, Sergio was hitting a shot on the par-5 2nd hole. Tiger was trying to decide what club to hit, whether to go for the green in two or lay up. As Tiger pulled his 5-wood, signifying that he was going to go for it, the crowd cheered… right in Garcia's backswing.
After the round Garcia complained (of course) that the action Tiger took was intentionally done. Following those complaints, Garcia futher shoved his foot in his mouth with racist comment about Tiger, even going Fuzzy Zoeller and mentioning fried chicken. Very poor judgement and worth of a TOY award. Later Garcia apologized.
In the Arnold Palmer Invitational Garcia gained quite a bit of media attention by hitting a shot out of a tree. He injured himself and had to withdraw. That's worthy of a TOY award as well but I had other thoughts, which I never bothered to research. During the shot Garcia braced his left hand on the trunk of the tree. I'm not sure if that is legal or not. Rules gurus may chime in and clarify that one for me.
Ian Poulter
Over the past year or so of following Ian Poulter on Twitter, I've begun to like the guy. I wish more players would freely speak their mind like he does, rather than being so politically correct. Though this is a turkey award, I have to give a thumbs up to Ian for this gesture at the 2013 Masters.
Frustrated with poor driving and missing the cut, Poulter gave his Cobra driver to a kid who was completely decked out in the Rickie Fowler orange traffic cone outfit. Later, in an even cooler gesture, Poulter worked to find out the kid's name so he could sign and authenticate that it was his driver.
USGA & R&A
A TOY award goes out to the United States Golf Association and Royal & Ancient Golfing Society, the two governing bodies in golf. They dropped the ball, so to speak, with regards to anchored putting. Anchored putting should have been banned decades ago and they've basically fixed the cart barn door after the carts came home.
USGA
I have to give another TOY award to the USGA, a "non profit" organization that works "for the good of the game."  They went for the money and moved the U.S. Open to Fox Sports, a network which has never broadcasted any major league golf event, ever.
When did they announce this change? This quote from Geoff Shackelford says it best:
"…in an utterly low class, ungentlemanly fashion on the eve of the PGA Championship which happens to be run by the organization that did not support us on the anchoring ban. Coincidence?"
For the good of the game? Let's check back on this one in a year and see.
Presidents Cup Streaker
I have to hand it to Kimberly Webster, the "streaker" who outran security for quite a while at the 2013 Presidents Cup. Her reasoning for streaking was to make the game more interesting. Can't say I disagree on that one.
BUT, Kimberly, if you are going to streak then REALLY streak. This g-string and pasties gig is gutless. That is not streaking. It is running around with a g-string and pasties on. Next time, take it all off or stay home.
Back9Network
Speaking of g-strings…
For a long time I had NO idea what Back9Network was. I saw them online and at the PGA Merchandise show, but it seemed like a bunch of hype with no substance. There's substance though. Its called silicone.
Back9Network is golf's version of TMZ, only even more sucky (if that is possible). This entity seems solely dedicated to posting photos of Paulina Gretzky in her bikini, or 20 hottest women in golf posts…
Not golf journalism. It is tits and ass to get cheap hits.
What's the over/under on when their VC funding runs out?
Golf Media
An instant turkey award goes to any "golf journalist" who writes, tweets or Facebooks the tired and worn out question, "will Tiger Woods break Jack Nicklaus' major record?"
Yep. This is a good old standby subject golf writers turn to when they can't think of anything else to write about.
Surely this question hasn't been asked and argued enough. I think 47 billion more times might do it.
The golf media deserves TOY awards for their over-coverage of the Sergio-Tiger "incident" mentioned above. The coverage was nauseating.
The golf media deserves TOY awards for their over-coverage of Tiger Woods. I love the shots of Tiger's "empty parking space" and the video clips of him blowing snot out of his nose while some other player is busy winning the tournament. Lets not forget the "here's Tiger going in the porta potty," and "here's Tiger leaving the porta potty."
Tiger Woods
One might argue that Tiger Woods should win the Turkey of the Year and until a month or two ago, he had it in the bag. There were three major rules problems which reflected quite badly on the world #1.
At the 2013 Masters Tiger's 3rd shot on the 15th hole hit the flagstick and then bounced into the water. Tiger took a drop and hit one stiff, saving bogey. Later Tiger mentioned to the media that he moved back a yard to get a better number. Rules infraction. He wasn't on the line that the ball entered the hazard.
The Masters committee had already made a ruling and decided not to disqualify Tiger for signing an incorrect scorecard, so he played on. Adam Scott (soon to be illegal belly putter), won the tournament.
At THE PLAYERS Championship (always write "The Players" in ALL CAPS, it is what they do), Tiger pulled his shot left on the par-4 14th into a water hazard. He took a drop which sent Johnny Miller though the roof. Johnny called the drop improper and much discussion ensued. Tiger lovers defended the drop and of course, Tiger haters called him a cheater.
In the BMW Championship Tiger Woods hit a ball into some trees by the first hole. He started moving loose impediments. While moving those sticks and things, Tiger's ball moved. The split second the ball moved, Tiger stopped. He did not assess a penalty on himself for moving the ball. Did he see the ball move? If he didn't, why would he have suddenly stopped rather than continuing to clean up the loose impediments? Tiger fans and haters have been arguing this point ever since it happened.
PGA Tour rules official Slugger White showed Tiger video of the ball moving. Tiger still argued that the ball didn't move.
Later in the year, the USGA would make an announcement that phone-in rules issues will no longer be accepted.
2013 TURKEY OF THE YEAR – BRANDAL CHAMBLEE
For a long time I've had respect for Brandel Chamblee. He is one of the few media members who has the golf balls to be critical of Tiger Woods.
My respect for Brandel's golf balls peaked when he wrote an article in Golf.com grading Tiger an "F" for the 2013 season. I thought it was funny that a player with five tour wins on the season could get an F. Five wins would make a great career for most players. But when talking about Tiger Woods, major championship wins are what are most important now. Tiger had zero, and has had zero since winning the 2008 U.S. Open.
So hats off for Brandel for grading Tiger his F. The media of course went nuts and blew this whole thing way out of proportion (another TOY award for the golf media). This story was so over-publicized.
Why does Brandel Win the TOY for 2013? After many weeks of pressure and negative publicity, Chamblee gave in and apologized for grading Tiger his F.
Not having the golf balls to stand up for what he originally wrote (and surely still believes) means lost respect and the 2013 Turkey of the Year award for Brandal Chamblee.
Related Links
Be sure to check out my buddy Jay Flemma's 2013 "Jazzy" awards. His version of the Turkey of the Year. Guess who wins?