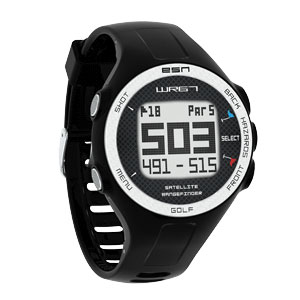 Written by:
Tony Korologos
|
Date:
Thursday, October 24th, 2013
Categories:
Golf Accessories
•
Golf Equipment
•
Golf Gear
•
Reviews
Tags:
Golf Equipment
•
Golf GPS
---
I was playing golf with a guy a few weeks ago who seemed so preoccupied with the time and his schedule. It was driving me nuts. He kept looking and looking at his watch before every shot. It was a slow round, but not that slow. Finally I asked him if he was in a hurry or something. It turned out that he was using a golf GPS watch and simply getting his yardages!
The tables turned on me a few short weeks later. I was testing the new Expresso Satellite Navigation WR67 Golf Satellite GPS Watch. Sure enough, one of my playing partners asked, "what's your hurry?" I couldn't help but laugh as I told him his ball was 147 front, 158 middle and 170 back…
WR67 Overview
The Expresso Satellite Navigation WR67 Golf GPS Watch brings all the regular features of a bulky golf GPS unit, but delivers them in a wristwatch format. The numbers are big and easy to read with front, middle and back readings on one screen.
The watch automatically detects the course and hole from its internal library of 25,000 courses.
Along with the great GPS features, the watch tracks shot distances. When hitting a shot, click the shot button. Then when arriving at the ball click it again. The WR67 tells you exactly how far you just hit it. Be careful though, the numbers may not be as high as you think or want. You don't hit your 7-iron as far as Tiger Woods. Sorry.
Hazard yardages are also listed in the watch.
The watch also has an odometer, so you can track how far you've gone since you started your round. In the case of my trip to St. Andrews in July of this year, 104 total miles for the week.
To update courses, the attached USB cable is used with Mac or PC. The USB cable also charges the unit. I must say the battery in this golf GPS watch far outlasts a regular GPS in number of rounds. On the last charge I've lost count.
On The Course
I'm not big on wearing watches but I did use it for a couple of rounds on the wrist. After that I attached the unit to the top of my golf bag. That's a perfect spot. I can check the yardage quickly and grab a club right there.
I found that I kept forgetting to track each shot. But when I was curious as to how far I was hitting shots, I would track them. That would give me a good idea of how far all the shots were going on a given day. Sometimes the conditions are such that the ball is flying farther or shorter than normal and that's good to know.
Critiques
The hazard yardages are a bit cryptic due to the lack of available digits. For the most part one can logically deduce that RFB is "right fairway bunker" but I kept thinking it was "right front bunker." Know what FGWC is? Front green water carry. You get the idea.
Conclusion
The $199 WR67 golf GPS watch (found it on Amazon here for $179
), is a great value compared to other regular golf GPS units. The GPS and shot tracking functions are great, plus it serves as a cool watch and odometer when not on the golf course.
Related Links
Amazon Link (currently $20 off retail)