Written by:
Tony Korologos
|
Date:
Wednesday, October 16th, 2013
Categories:
Golf Apparel
•
Golf Gear
•
Reviews
Tags:
Golf Apparel
•
review
---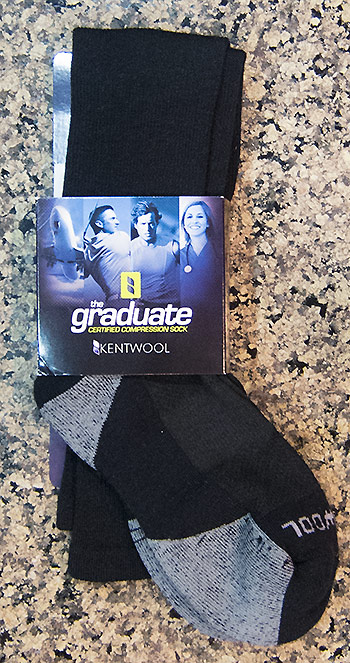 Kentwool makes the best golf socks in the world.  I can say that without hesitation.  There's simply no competition.  I have a drawer full of cotton socks from major manufacturers which I can't bring myself to wear because I keep going with my Kentwools.  I should just chuck all those other brands.
Kentwool Graduate Compression Socks
Recently I've been evaluating Kentwool Graduate Compression socks.  If you've never tried compression socks or other compression apparel items, they're fantastic.  By compression they mean the item is very tight, in a therapeutic way.  The compression helps to increase blood flow as well as reduce muscle and tendon soreness which can occur during athletic activities.
The Graduate Socks are large.  They go above my knee, which is great.
The socks are made of 18.5 micron super-fine Merino wool, which makes them very soft.  The wool has "thermoregulatory" properties which help cool the body in the summer and heat it in the winter.  The fabric also naturally wicks moisture away, keeping the wearer dry.
Sizes/Colors
There are two colors available for the Graduate, Black (pictured) and Natural.
Sizes available are medium, large and extra-large.
On And Off The Course
Increased blood flow is great for athletic activities but also very good for times of inactivity, like sitting at the office or on a plane.  In my case the Graduates have helped me weather the arctic cold of the west stands at Rice Eccles Stadium when I'm watching a Pac-12 Football game in the wee hours of the evening.  The last two Utah Utes home games have been very cold, but with the help of my Graduates, my legs have been very warm.   Not only that, I haven't experienced any stiffness or soreness from sitting still in cold temperatures for 4-5 hours.
Fall is here and the temperatures are dropping.  We are now experiencing frost in the mornings.  I have yet to put the Graduates into play on the course, but I'm looking forward to the benefits of the increased blood flow as well as staying a little warmer.
Conclusion
Once again Kentwool has produced a fantastic product.  At $40 for a pair of socks, you get what you pay for.  In fact, I'd say $40 is a great deal when considering the comfort and benefits.