Written by:
Tony Korologos
|
Date:
Tuesday, September 10th, 2013
Categories:
(British) Open Championship
•
Champions Tour
•
Miscellaneous
•
PGA Championship
•
PGA Tour
•
Pro Golf
•
The Masters
•
U.S. OPEN
---
I'd like to personally wish The King, Arnold Palmer, a great 84th birthday. While I grew up on the waning side of Arnie's career, I still loved to watch him play. I seriously break into tears every time The King leads off the Masters with the ceremonial tee shot. Yeah, I'm soft.
I did follow around Arnie a few times on the course during some Champions Tour (then the Senior Tour) events and it was a blast. Perhaps the best group was the time I followed Arnie, Jack Nicklaus and Lee Trevino. Fantastic. Arnie and Jack didn't get much of a word in over Lee. No surprise.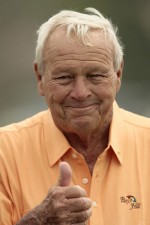 Nobody has done for golf what Arnie did. This blog probably would not exist and I'd probably be blogging about pool or something if not for the popularity The King brought to this great game in the 50's.
Many people have "Arnie stories." My lovely mother (RIP) had one. She was watching Arnie play during a tournament. After putting out, The King walked up to my mom and gave her a big wink, then went on to the next hole. She melted. I always loved hearing that story from her.
My dad had an Arnie story too. He was a sports writer here for many years and had the opportunity to interview The King for an hour. He asked Arnie, "if I practice as much as you do and hit as many range balls as you, can I beat you?" Arnie's answer was, "no." My dad asked Arnie how he could play so great under pressure. What makes him so good? His answer, "I WILL the ball into the hole." My dad later told me that if he was Arnie's golf ball, he'd be afraid not to go in the hole.
I hope to have my own similar Arnie story someday.
Thanks for everything Mr. Palmer.  Have a great birthday.