Written by:
Tony Korologos
|
Date:
Monday, July 15th, 2013
Categories:
(British) Open Championship
•
Miscellaneous
•
PGA Tour
•
Pro Golf
---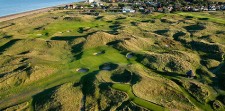 European Tour
Scottish Open
Castle Stuart Golf Links
I had quite a bit of fun watching the Scottish Open this weekend. Having golfed for a week in Scotland the week before I was aching to play and enjoying watching links style golf. Links golf is SO different than typical American golf. The hard fairways and greens, combined with the usual high winds, make it far more interesting and challenging.
In true Phil fashion he hit shots a normal player shouldn't be able to hit in those hard and windy conditions. I'm talking lob wedges of course. Of the 9 rounds on true llinks golf courses I played last week, I hit TWO lob wedges. Phil's talent level is so sick. He's perhaps the only player who can hit those wedge shots off such hard ground.
For those who didn't follow it, Phil had a one shot lead going into the final hole at the Scottish Open. The last hole was a par-5. All he needed to do was make par and he had the win. In un-Phil-like fashion, he played conservatively. He was in perfect position after 3 shots, with about a 15 foot range to two-putt and secure the win. Instead he motored his putt and ended up way past the hole. He was unable to convert the par putt. 3-putt bogey and into a playoff.
Phil changed his strategy back to the Phil of old on the playoff, going for the green (same hole) in two. He was just short right in a very tight and hard lie. He chipped his lob wedge which landed near the hole and spun back to about 10 inches. If I tried that shot it would have bounced over the the green. I could have tried that shot 100 times and never had that result.
The tap-in birdie gave him the win and proves he CAN play links golf.
Does Phil's finish at the Scottish Open benefit him coming into the (British) Open Championship this week? I'm not so sure. He will come into the event with the fresh thoughts of having better results from aggressive play rather than conservative play.