Written by:
Tony Korologos
|
Date:
Thursday, June 6th, 2013
Categories:
Golf Books
•
Reviews
---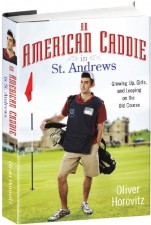 I first have to apologize to my lovely lass (Scottish for lady/wife) for pretty much ignoring her a couple of nights ago.  I only had about 30 pages left in my latest read An American Caddie in St. Andrews: Growing Up, Girls, and Looping on the Old Course
 by Oliver Horovitz, and I couldn't put it down until I'd finished it.  Sorry I left you stranded on the freeway at 11PM with car troubles dear!  Will you forgive me?  I hope the cab ride home was okay.  Did the baby eat on the cab ride home?   Hehe.  Just kidding… sort of.
An American Caddie in St. Andrews: Growing Up, Girls, and Looping on the Old Course
 is the story of a Jewish kid from New York who becomes a caddie in St. Andrews.  How could that not make for a good book?  So many dynamics. Oliver tells the story of his college years and trying to find his place in life.  Like seemingly everyone who spends time in the Auld Grey Toon (Old Gray Town), Horivitz falls in love with the place, the people, the culture, and of course the golf.
I like how Oliver had several plots going at the same time during the book:  The caddie life, the college life, family life, and love life.  No matter what happened in any of those parts of his life and where they took Oliver, St. Andrews called him.  I understand the call.  Ever since going there the first time, it as been calling me to come back.  I'll be there in one month for a beautiful week.  Can't wait.
Without giving the story away, there are great moments and sad moments in the book.  On no less than three occasions I had tears in my eyes, and not the Bill Murray Caddie Shack kind.  Following Oliver's birdie putt on 18 toward the end of the book I had to pause and gather myself before I could continue.  Deep breaths…
Conclusion
Oliver's story is a delightful account of a one person's unique journey through a crucial developmental time in his life, spent at one of the most magical places on this planet, St. Andrews.  The writing is brilliant (Scottish term) and the insights on the Old Course caddies are fantastic.  I remember back in 2011 when I was walking with my caddie John Boyne (mentioned in the book) and a fellow caddie on another hole signaled to John by holding up his player's golf club high in the air and waving it.  Now I know what that means!