Written by:
Tony Korologos
|
Date:
Tuesday, May 21st, 2013
Categories:
Golf
•
Golf For Women
•
Miscellaneous
•
PGA Tour
•
Tiger Woods
•
USGA
---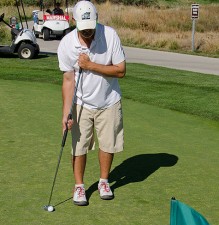 As suspected the USGA and R&A ruling on banning anchoring golf clubs has become reality.  Starting January 1, 2016 anchoring any kind of golf club to the body, not just putters, will be illegal.
The anchoring ban is fine with me. I've always been a good putter with a standard blade style flat stick so I don't use a belly putter.   I tried anchoring a belly putter for about 10 seconds.  The club head was all over the place.  I had absolutely NO control over it in speed or direction.
PGA Tour
Now what will the PGA Tour do?  They've come out against the ban on anchoring, though individual players like Tiger Woods are for the ban.  Could we see a mexican standoff between the PGA Tour and the USGA?  That saga will be interesting to follow.
Keegan Bradley, Webb Simpson and Adam Scott might want to start practicing with a shorter putter just in case!