Written by:
Tony Korologos
|
Date:
Monday, May 13th, 2013
Categories:
PGA Tour
•
Pro Golf
•
Rory McIlory
•
The Masters
•
Tiger Woods
---

How did you like THE PLAYERS Championship? Always write "THE PLAYERS" in all caps, that's what they do.   For a while there it looked like Sergio Garcia was going to have the best of Tiger, but three balls in the drink on the final two holes shot that down.  The other contenders were dark horses who made a threat, but in the end the one left standing was Tiger.  His performance was good enough.  He was playing solid and consistent, but not dominant.  The win was there for another player to take, but that didn't happen.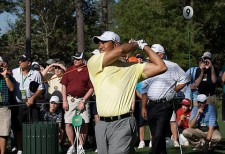 2013
Tiger has reached four wins for the 2013 season already.  No other player on Tour has more than one.  Rory McIlory has none.  This is the quickest that Tiger has reached four wins in ANY of his years on tour, even is best year in 2000.  That's a bit scary to me, because it doesn't look like he's playing that well.    Perhaps I'm just used to the version of Tiger a few years ago that dominated.  One could argue he might have a Masters win if not for a bad break on #15 in the final round where he hit the stick, then made an illegal drop.  If that ball doesn't hit the flag, he probably makes birdie and takes the lead…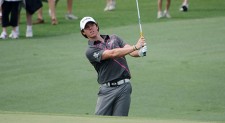 Bueller Bueller Bueller
Is there another player on Tour right now who could be a legitimate and constant threat to Tiger?  We keep hearing how "deep" the tour is.  Phil Mickelson isn't a spring chicken.  Rory is anything but consistent.  Bubba Watson is still having Masters 2012 hangover.  Graeme McDowell just got over his U.S. Open hangover.  Who else is out there?  If players like Luke Donald and Lee Westwood haven't done it by now, I'm not sure they will.  As I see it at this point, the best candidates are Brandt Snedeker and Rory McIlory.
Following the conclusion of THE PLAYERS last night, my dad texted me asking this question above.  I loved his quote about the players who are trying to beat Tiger, "They're a bunch of look-alike swing mechanics swinging monkey wrenches in the clutch!"
Well said.
Comparing Tiger To Jack, For The Billionth Time
Man I get tired of hearing about whether or not Tiger will beat Jack Nicklaus's major record of 18.  The times are quite different.  Jack Nicklaus had SO many threats, constant threats who were players with more than one major championship.  So many players in Jack's era challenged him.  Think about who Jack had to beat on a weekly basis: Arnold Palmer, Lee Trevino, Tom Watson, Tom Kite, Johnny Miller, Chi Chi, Ray Floyd, Gary Player, Seve Ballesteros.
At Tiger's current age of 37 he has major 14 wins, the same number Jack Nicklaus had at 37.  By my argument in the previous paragraph it sounds like Tiger has a good chance to beat Jack.  Majors are a different animal.  One bad break, like hitting the stick on the 15th at Augusta on Sunday, can make the difference between a win and T4.  Will Tiger break the record?  I'd rather watch it unfold than listen to golf's talking heads pontificate about it over and over.