Written by:
Tony Korologos
|
Date:
Friday, May 10th, 2013
Categories:
Golf Apparel
•
Golf Gear
•
Reviews
---
Great news following my last round of golf, testing a nice new belt: My pants didn't fall down!  That's what belts do, right?  They keep your pants from falling down?  In today's golf world they do more than that.  Belts are a statement about the player and his/her style.  Lets take a look at the latest leather belts from ECCO.  Yes ECCO, the maker of some of the best golf shoes on the planet.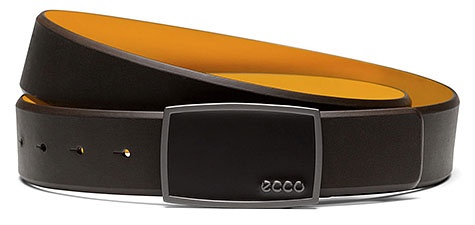 ECCO golf owns their own tanneries so they can be in control of every step of the shoe making process, and now belts.  Ecco's belts are simple and very classy looking. The buckle is an enamel filled square with a modest "Ecco" logo.
Colors
There are three colors available: off-white, rich espresso and deep black. My model is the rich espresso. That's fitting because I have about three rich espressos every morning.
Conclusion
At $100 retail, this may be a little outside the budget of some golfers.  That being said, this is a case of "you get what you pay for" at its best.  The new ECCO leather belts are super-stylish, made from high quality materials and best of all keep your pants from falling down.
Father's Day alert!
This belt would be a perfect Father's Day gift.  I'll be adding the ECCO men's leather belts to the annual HOG Father's Day golf gift guide soon.
Related Links
More ECCO men's leather belts photos.
Hooked On Golf Blog ECCO BIOM golf shoe review.