Written by:
Tony Korologos
|
Date:
Friday, April 19th, 2013
Categories:
Golf Accessories
•
Miscellaneous
•
Reviews
---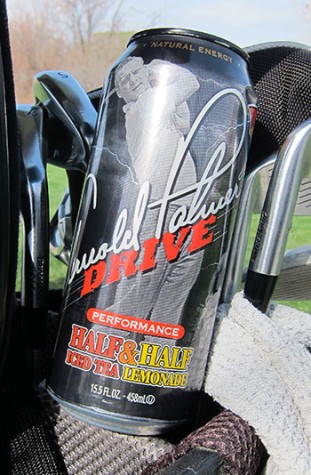 I'm a big Arnold Palmer fan, both the drink and the player. The drink, for those who don't know what it is, is half iced tea and half lemonade.  I've consumed countless gallons of Arnie's iced tea and lemonade, made by Arizona.  I was thrilled to get the chance to "test" some of his new line of half and half performance drink.
In addition to the great flavor of the original Arnold Palmer, Drive helps with focus and recovery by including "richly packed vitamins, coconut water, super fruit extracts, antioxidants, amino acids and natural caffeine."
On The Course
I'll do anything to save a few strokes off my game.  The lampshade incident was a failure but Drive may be a great compliment.  My unscientific test took place over 18 holes.  I played nine while drinking water and nine while drinking Arnie's Drive.  The results?  I shot three strokes better on the nine when I drank the drive beverage!  There you have it.  Based on that, you should be able to shave off six strokes per 18 holes!
Conclusion
I can't take any chances.  I'll be downing my first sip of Drive 15 minutes before my 8:30 a.m. money-game tee time this Sunday.  If I end up with more cash in my wallet after the round than when I started it, I'll be stocking up on a few cases of Drive for the summer.