Written by:
Tony Korologos
|
Date:
Sunday, April 14th, 2013
Categories:
PGA Tour
•
Pro Golf
•
Rory McIlory
•
The Masters
•
Tiger Woods
•
U.S. OPEN
---
The Masters NEVER disappoints.  Never.  There isn't a golf tournament in the world that can compare to the excitement and the historic shots.  Not the PGA Championship and certainly not the US Open.  The British would be a distant second place.  I will discuss more as to why the Masters is the best shortly.  I'm so spent after the Masters it is hard to post anything meaningful but lets give it a shot.
2013 Masters Comments
Adam Scott
Adam Scott brought home a green jacket to Australia and finally took himself off the "best player to never have won a major championship list."  Yes you could argue that Luke Donald or Lee Westwood might have held that position going into this week, but you certainly can't say it about Adam Scott now.  Adam's ball striking was fantastic this week.  Seems like he's even gained some length.  The long putter served him well this week and those clutch putts, the first on 18 to take the outright lead, then the one on the 2nd playoff hole for the win, were clutch.  Congrats to Adam.  He finally did it.
Angel Cabrera
Angel Cabrera may be my favorite player right now.  I love the combination of power and touch.  He plays with no fear.  What is it with his ability to shine when the stage is the biggest?  Large golf cojones on this one.  The shot Cabrera hit on the final hole, knowing he had to make birdie to force a playoff, was easily the most clutch shot I've ever seen. Even more clutch than that damn 15 foot putt my opponent made on me last week to close me out on our $2.00 nassau with two presses.   You could tell how much Angel was enjoying the challenge too.  Cabrera is a stud.  How about the IRON off the tee on #10 in the playoff?  #10 is 495 yards people.  Yes it was downhill but still… and it was raining.  His iron went 292 yards, nearly as far as Adam Scott's driver.
Tiger Woods
The odd bad break Tiger Woods had on the 15th hole Friday cost him the tournament in my humble opinion.  Had his shot not bounced off the flagstick and into the water, he would have had a short birdie putt which would have given him sole possession of the lead.  Instead he made bogey, which would then be turned into a snowman (8) after it would be deemed that he made an illegal drop.  "Drop gate" ensued the next morning or what I prefer to call, "the drop heard 'round the world."  The only reason Tiger wasn't disqualified was a new rule instituted in 2011.  That was the one break Tiger got this week.  This week Tiger missed putts he used to never miss, when he had to make them.  The ever nauseating and old "will Tiger break Jack's record?" discussion continues, though each major seems to get harder and harder.
Phil Mickelson
Have we seen the last great performances from Phil at Augusta?  Phil finished tied for 54th place, with no rounds lower than 71.
Rory McIlory
Cue the "has the equipment switch hurt Rory McIlory's game" tape aaaaand…. go.  Rory was never a factor this week, though he did make the cut.  Rory's lowlight this week was a 3rd round 79… moving day.
Jason Day
I found myself hoping Jason Day would finally pull it out.  He had the lead at several points and by two shots on the final nine.  The tolerances at Augusta National are so fine that you just can't afford to miss shots in the wrong place.  Jason did that.   He's got a perfect game for that track and I expect him to contend there again.  I didn't feel too bad for him when I saw him pick up his baby son after the round.  Made me think of my own baby Seve.  With him I wouldn't care if I won the Masters or not.  Perspective…
Brandt Snedeker
I was hoping for a Sneds win too.  His putting is so good and his ball striking this week was great.  But the pressure was a bit too much for him.  He was close.  Just like Adam Scott, the more times he knocks on the door of a major win, the better equipped he will be mentally to overcome the pressure and win the thing.  Maybe next time.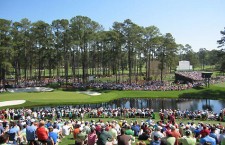 Augusta National Golf Club
Why is the Masters so good every year?  Look no further than the golf course and the way it is setup.  The Masters is geared for exciting finishes and Sunday charges.  It is not a US Open type of golf where the last person standing is the one who could somehow survive a four day on-course beating.  The course gives players many chances to hit heroic shots and penalizes them if they don't.  That my friends, is what makes it so exciting.
Add the setup to the fact that this major is on the same course every year and has been since the 30's.  Year after year heroic shots are etched into the tournament's history, like Jack's putt on 17 in 1986, Tiger's chip-in on 16 in 2005 or Gene Sarazen's "shot heard 'round the world" in 1935.  The golf course is like a living golf museum of historic shots.
Good News!
Only 361 days until the 2014 Masters!  I'll be counting them down starting…. NOW.