Written by:
Tony Korologos
|
Date:
Monday, April 1st, 2013
Categories:
Cigars
•
Golf Accessories
•
Golf Gear
•
Golf Life
•
Golf Lifestyle
•
Life
•
Reviews
---
Once in a while I bust out a cigar on the golf course.   There's something about it that helps my game a bit when struggling.  Perhaps it takes my mind away from the game and distracts me just enough to play a little better.  There are many obvious problems with smoking cigars either on course or off the course.  Your clothes smell.  Your gear smells.  Your hands smell.  There's a lingering cigar taste in your mouth.  Add those to the tar, carbon monoxide and second hand smoke and that's why I don't bust them out more than 3-4 times per year.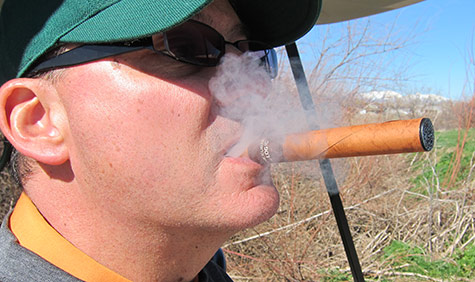 THE CUBAN
Now there's an option which eliminates all those problems above, but still allows one the enjoyment of puffing on a stogy.  LOGIC makes an "E-Cigar" or electric cigar called THE CUBAN.  They claim this electronic cigar is "a way for golfers to enjoy a cigar on teh golf course without having to worry about smoking bans, disturbing other golfers and dirtying the course."
Features
Produces a real "puff" which is not smoke, rather it is vapor (see puffing photo above)
Each cigar is good for roughly 1500 puffs, about 10-13 regular cigar's worth
No tar
No tobacco
No second hand smoke
No smell
No carbon monoxide
Yes on nicotine, about 1.8% by volume
Battery powered cherry ash glows when you puff
No ash
On The Course
I was intrigued and volunteered to try one out.  Lighting the unit was easy.  Just pop the small rubber cap off the end and start puffing.  The taste was a little like vanilla flavoring.  I really liked the fact that the smoke didn't hurt my eyes or make my hands and clothes stink.  I REALLY liked that I didn't have that nasty post-cigar taste in my mouth for the next 12 hours.
The weight of the unit is heavier than a typical cigar.  Takes a bit more jaw power to hold in the mouth.  The fact that there's no ash is nice.  Once during every cigar I seem to ash on myself, which isn't great.  I also like the fact that you can't burn yourself, or your gear when you put the cigar down to hit a shot.
Conclusion
At $19.95 the E-Cigar may be the answer to smoking bans on the course or elsewhere and you don't smell nasty after.  Of course the experience is a little different than a real cigar since well, it isn't a real cigar.